BEACH AND DUNE NETWORK
BEACH and DUNE NETWORK - Germany
Welcome to the BEACH and DUNE NETWORK

Why a coastal dune network?
Coastal dunes are one of the most threatened habitats in Europe. They offer habitats for various, often specialised animals and plants; and the unique landscape constitute an important service for human well-being. Human pressure, landscape use and the nature values result in conflicts of interests.
Aims of the Coastal network, to
- conserve sand dunes, shingle and sand beaches as dynamic landscapes with unique nature values
- promote the sustainable use and management
- support policies and actions that maintain the intrinsic natural values
- develop a vibrant European network of communities concerned with coastal dunes and their management
- support the knowledge and understanding of coastal dunes, and
- to provide an international platform dedicated to coastal dunes
We set out to achieve this by
- enthusing and encouraging people to value and understand the habitats more thoroughly
- championing the habitats and support their nature value
- facilitating an exchange of knowledge and support actions that are good for the habitats
- making the Network an active community and a recognised source of expertise and authority at a global level
Who is involved?
The Network includes, amongst others, site managers, national policy makers, students, researchers, ecologists, geomorphologists, hydrologists, foresters, coastal engineers, tourism managers.... . Events always involve a cross-section of interests to bridge the gap between disciplines and to encourage lively debate.
Members' distribution (2021) - has to be updated due to changes....
There are some national and regional dune networks already formed in several countries.
Join the Network
Participation in the network is free. Network members will receive updates via email few times a year and have the opportunity for the input of information to the network.
To join the network, please send an email. Your data from the application will be entered in an internal (within the network), non-public accessible database. This allows us to connect interdisciplinary members if the need should arise. We welcome members from everywhere on the globe, as one of the goals of our network is to promote cooperation in Germany, Europe, and worldwide. If you are interested in European or international cooperation, you can get in touch with the European Dune Network.
Financing
The Beach and Dune Network is operated on a voluntary basis.
Contact
Do you have hints or ideas for improving our network or holding events, or do you know people who could support the Beach and Dune Network? If so, please send us an email to Maike Isermann dunes-d (at) eucc-d.de.
BACKtoSTART
__________________________________________________________________________________________
IMPRESSIONS OF EUROPEAN DUNES & COASTS
________________________________________________________________________________________
RESEARCH, MANAGEMENT, CONSERVATION, EDUCATION...
Dynamic Dunescapes Project Conference - ONLINE for FREE
Handbook Coastal Dune Management
Dutch Foredune Dynamisation - Manual and Checklist
International World Sand Dune Day 2023
Field Guide Woody Invasive Species (in Dutch)
Littoral22 - Book of Abstracts
The Waddensea - nature and cultural heritage
Dunes in Motion
Knowledge Exchange Report
LITTORAL 2022: Coastal dunes and beaches
Dutch dunes lack natural management of the rabbit
The State of Coastal Dunes of the Atlantic Biogeographical Region 2020
More and more information - 2022 back
_______________________________________________________________________________________
Dynamic Dunescapes Project Conference - ONLINE-2023-
Online registration is now OPEN for the Dynamic Dunescapes Project Conference.Registration is now open to join a livestream of the Dynamic Dunescapes project conference, discussing sand dune rejuvenation conservation and engagement activities, and celebrating the achievements of the project over the past three years.
Please visit dynamicdunescapes.co.uk/project-conference/ to book your free livestream ticket and join us virtually for all three days of talks, lessons and insights.
Report on Invasive Alien Species in Great Britain and Ireland-2023-
John Houston, GB
"This review of dune management looks back 50 years or more to the concerns in the 1960s and 1970s about the impacts of non-native conifers and the development of dune scrub, to the present day concerns about invasive native and non-native plant species, and to the future by looking at what recently arrived non-native species, or yet to arrive species, might also become invasive. The Convention on Biological Diversity defines invasive alien species as species whose introduction and/or spread outside their natural past or present distribution threatens biological diversity. Within Europe, coastal dune habitats are particularly impacted by invasive alien species and the Atlantic biogeographical region (which includes the UK and Ireland) is considered the worst affected. Against this background dune managers across northwest Europe have been calling for the development of a regional 'black list' of invasive alien species and for greater sharing of experience across the Atlantic region."
_______________________________________________________________________________________
Handbook Coastal Dune Management--
Jones, L., Rooney, P., Rhymes. J. and Dynamic Dunescapes partners, GB
A comprehensive handbook discussing the wide range of dune management options available to address the issues faced by coastal sand dune systems, including overstabilisation and invasive species. Management interventions detailed include notches, grazing, turf-stripping and scrub clearance. This handbook is designed to be a useful, in-depth resource for sand dune site managers, and aims to keep our management techniques up to date for the needs of dune conservation in a variety of situations.
Jones, L., Rooney, P., Rhymes. J. and Dynamic Dunescapes partners (2021). The Sand Dune Managers Handbook. Version 1, June 2021. Produced for the Dynamic Dunescapes (DuneLIFE) project: LIFE17 NAT/UK/000570; HG-16-086436
_______________________________________________________________________________________
Dutch Foredune Dynamisation - Manual presented-2023-
Luc Geelen, NL
In more and more places along the Dutch coast, dynamic processes are given a chance or active efforts are being made to make the coastal dunes more dynamic. When you start projects in de foredunes, you have to think about many things. During the Living Dunes symposium last November on Texel, Albert Oost from "Staatsbosbeheer" and Sonja van der Graaf from "Programma naar een Rijke Waddenzee" gave a preview of the Foredune Dynamisation Manual. This guide has been created by dune managers and experts and is designed to be used as a guide for all the project-steps required. There is also a checklist with the most important points for attention. The manual starts with this checklist where you can easily click through for each item to the substantiating text in the manual so that you do not always have to go through the entire manual.
It's in Dutch and written for the Dutch over stabilized dunes, but with some help of google translate the theory behind this management is interesting for dune managers in whole NW-Europe!
Links to the manual and checklist: Checklist en Handleiding voor Dynamisering Zeereep
_______________________________________________________________________________________
International World Sand Dune Day-2023-
Antje Ehrenburg, NL
The International World Sand Dune Day, the "Dag van de Duinen", in the Netherlands will be held on JUNE 24.
You will find information of the activities: "Dag van de Duinen"
_______________________________________________________________________________________
Field Guide Woody Invasive Species (in Dutch)-2023-
Luc Geelen, NL
NVWA, The Netherlands Food and Consumer Product Safety Authority, presented a field guide for woody invasive species.
_______________________________________________________________________________________
Littoral22 - Book of Abstracts-2023-
Cláudio Duarte, Jose Ferreira, Renato Monteiro, Catarina Jóia
The Book of Abstracts contains the abstracts of every presentation made during the Conference. It is divided by session, therefore being organized in chronological order of presentation.
_______________________________________________________________________________________
The Wadden Sea - nature and cultural heritage-2023-
This book on the Danish, German and Dutch Wadden Sea coast surveys the intimate interaction between the dynamic nature and the coastal people. Throughout millennia, fenland farmers, island mariners and tradespeople in coastal towns have lived with
predictable tides and treacherous storms. Sometimes winning, sometimes losing. Living thus, with their destinies determined by the sea, has forged a fellowship, a unique coastal culture across national frontiers. Future climate changes will, however, threaten both this fellowship and the Wadden Sea itself.

The Wadden Sea has the world's most expansive tidal flats and therefore vital for millions of migratory birds. Today the Wadden Sea is inscribed on UNESCO's World Heritage list of irreplaceable world natural assets.

The Wadden Sea – nature and cultural heritage written by experts from all three countries, is broadly accessible and richly illustrated. The book addresses both readers with a professional interest and all those wishing to learn more about the remarkable and fascinating world.
_______________________________________________________________________________________
Dunes in Motion-2023-
Sonja van der Graaf, NL
More and more attention is being paid to dynamics in the dunes. Not only because of the positive impact on the natural values, but also because of the contribution to water safety. Dunes can potentially grow with the sea level if sand is allowed to drift from the beach into the dunes. The Programme towards a Rich Wadden Sea, together with the Province of Noord-Holland, Staatsbosbeheer and Rijkswaterstaat, prepared a short animation about the importance of dune dynamics.
See: Dunes in Motion
_______________________________________________________________________________________
Knowledge Exchange Report-2022-
Reinhardt Strubbe, Jeppe Pilgaard, Luc Geelen, Marc van Til, Kathryn Hewitt, Isabelle Spall
On the 28th and 29th of October 2022, a knowledge exchange event concerning coastal dunes ecology took place in the Netherlands (with representatives of 3 ongoing LIFE projects, the administration board of thy National park and a lot of dune experts from the Netherlands). The report with most interesting discussion points and terrain facts you will find as pdf-file.
_______________________________________________________________________________________
LITTORAL 2022: Short notes from the Session Coastal dunes and beaches -2022-
Luc Geelen, Costa Caparica, Lisbon, Portugal, 20 September 2022

The workshop was organised by Luc Geelen (Waternet, Netherlands) and Frank van der Meulen (formerly Deltares, Netherlands).

The workshop was a plenary session in the conference program and attended by almost all participants, which was a very positive sign of the importance of the subject. It was an open discussion in which everyone could participate.

Aim of the workshop was to discuss past and future of european dune and beach habitats. What have we gained in the years since the start of EUCC (starting as EUDC in 1987) and what are the main items (still) standing out for the future?
Create an opportunity to strengthen the European dune network (EUCC-EDN)

The EUCC can facilitate the exchange of ideas between policy-makers, researchers and managers. The European Dune Network is a relatively loose network, very useful for contacts between colleagues.
_______________________________________________________________________________________
Dutch dunes lack natural management of the rabbit -2022-
Despite the reduction of nitrogen deposition, longer periods of drought and grazing with livestock, a viable population of rabbits in the dunes remains a great loss. This is the conclusion of PhD research at Wageningen University & Research (WUR) by ecologist Harrie van der Hagen on a research financed by Dunea.
The vegetation in the Dutch coastal dunes has changed over the past five decades due to various causes, including too much nitrogen deposition. Open, sandy dunes and species-rich grasslands became tall grasses, shrubs and forest, resulting in loss of local biodiversity. As a measure, grazing with large grazers has been introduced in many areas. This is also the case in Meijendel, the valuable dune and water extraction area between The Hague and Wassenaar. From 1990 onward, cows and ponies were used all year round. After 20 years, nature manager Dunea wanted this very common policy choice among nature managers to be scientifically substantiated.
Cattle less effective than expected
Dr. Harrie van der Hagen, ecologist at Dunea, studied the development of the vegetation in Meijendel since the introduction of livestock and, after years of research, came to a striking conclusion: the decline in the rabbit population, the decrease in nitrogen deposition since 1990 and possibly changes in the climate, were found to be more important for the partial restoration of biodiversity than the effect of livestock grazing. "The dunes mainly lack the natural management of rabbits," explains Van der Hagen. "Whereas cattle accidentally eat seedlings from trees and shrubs, rabbits systematically seek out these protein-rich sources of food. We also miss the positive effect of the rabbits digging activities."
Open and dynamic
The original population of rabbits in the dunes virtually disappeared when the disease myxomatosis reached the Netherlands in 1954 and later again in 1989 with the RHD virus. "Eating seedlings and digging burrows are two characteristics that rabbits, as original managers, have ahead of the introduced livestock," said the ecologist, who obtained his PhD this week at Wageningen University & Research (WUR) based on his research. "Rabbits ensure that, tall grasses, forests and shrubs do not have a chance in the dune grasslands. As a result, the dunes remain open and dynamic, so that herbs and other small species do not have to compete with tall species for air and light."
Rabbits Rule
"The number of rabbits must be increased to allow them to once again rule over the calcareous coastal dunes of Meijendel," concludes Van der Hagen. However, this is easier said than done and requires further research. "Moving rabbits from places where they are still numerous is obvious. Preferably, this should be from a natural dune environment, so that the young rabbits also learn to stay out of the clutches of, for example, birds of prey and foxes. Catching experienced rabbits away from sports grounds and introducing them into our dunes would then be a win-win situation, because their activities on the sports grounds are experienced as a nuisance. With an inoculation and a safe shelter, we can help rabbits to grow back to a viable population within a few years."
Internationally relevant
Van der Hagen indicates that his findings apply to all calcareous dunes, between Bergen-aan-Zee and northern France. "As long as rabbits are not back yet, we can vary the grazing with livestock more in numbers and types of animals, instead of year-round grazing with 1 cow or pony per 15 hectares as practiced in Meijendel."
Download link for the thesis: https://www.dunea.nl/algemeen/-/media/bestanden/nieuws/proefschrift-harrie-van-der-hagen-dunea.ashx
_______________________________________________________________________________________
The State of Coastal Dunes of the Atlantic Biogeographical Region -2020-
John Houston, GB
Note: This summary is derived from the Article 17 data published by the European Environment Agency in 2020. The information was correct at the time of writing in October 2020 but subsequent edits may have changed some information and web links may have changed.
State of nature in the EU 2020
The European Environment Agency published the report State of nature in the EU on 19th October 2020[1]. The report is an analysis of the data provided by Member States reporting under the nature directives 2013-2018. For Habitats Directive habitats and species the detailed information by member state and biogeographical region is published in a series of dashboards[2] and the Article 17 web-tool[3]. These can be used to check the current status and trends of habitats and species by Member State, by biogeographic region, by habitat type or species and to compare this information with reports from 2001-2006 and 2007-2012. Links in the Article 17 web-tool give access to Member State reports reported by biogeographical region[4].
Across all habitat groups, dunes (21 coastal and inland habitat types), along with bogs, mires and fens, have the highest percentage (>50%) of bad assessments and a low number of good assessments. These 'dune habitats' include the 10 habitats making up the Habitats Directive sub-group Sea dunes of the Atlantic, North Sea and Baltic coast, 7 habitats in Sea dunes of the Mediterranean coast and 4 habitats in Inland dunes, old and decalcified.
© EEA 2020
According to Member States assessments the total area of all Annex I dune habitats (coastal and inland) is 9,200 km2, the smallest area of any habitat group. Compare this, for example, to the reported 406,000 km2 of coastal habitats. As a consequence any proposed restoration targets for coastal dunes are relatively small in the big picture. Working together, however, e.g. through the Natura 2000 Biogeographical Process, will help to ensure that habitat restoration and habitat creation opportunities are promoted.
Coastal dunes in the Atlantic biogeographical region
This note is derived from the information from the Article 17 reports for the Member States in the Atlantic Biogeographical Region (i.e. Denmark, Germany, The Netherlands, Belgium, France, Spain, Portugal, UK and Ireland). Only The Netherlands, Belgium, UK and Ireland lie wholly within the Atlantic region. The EEA State of nature report 2020 includes data for the UK which was still a member of the EU in the reporting period. The UK, however, will no longer take part in future Article 17 reporting, although information on habitat and species status will continue to be monitored. This, therefore, will be the last EEA report which presents information from the nine countries in the Atlantic biogeographical region.
The Atlantic biogeographical region holds the largest area of coastal dune habitat in EU-28 (43%) but also has the lowest percentage of habitat in good condition (28%).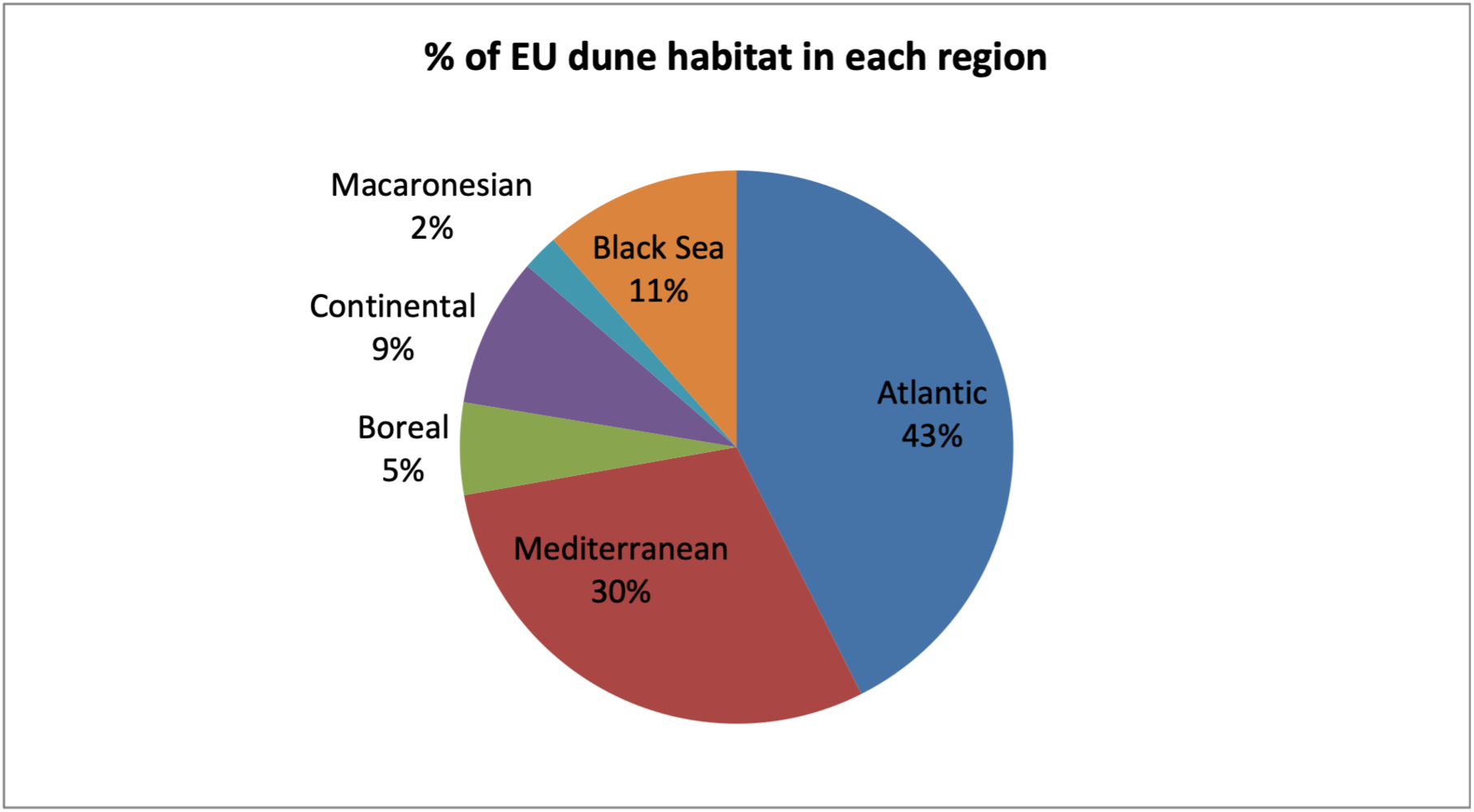 The main set of Habitats Directive Annex I coastal dune habitats of the Atlantic biogeographical region are in the sub-group of the Interpretation Manual of EU Habitats 'Sea Dunes of the Atlantic, North Sea and Baltic coast', i.e:
2110 Embryonic shifting dunes
2120 Shifting dunes along the shoreline with Ammophila arenaria (white dunes)
2130* Fixed coastal dunes with herbaceous vegetation (grey dunes)
2140* Decalcified fixed dunes with Empetrum nigrum
2150* Atlantic decalcified fixed dunes (Calluno-Ulicetea)
2160 Dunes with Hippophae rhamnoides
2170 Dunes with Salix repens ssp. argentea (Salicion arenariae)
2180 Wooded dunes of the Atlantic, Continental and Boreal Region
2190 Humid dune slacks
21A0 Machairs (* in Ireland)
* Signifies that the habitat is a priority habitat
The overall distribution and condition of these habitats in Atlantic biogeographical region (i.e. the total for nine Member States) is:
| | | | |
| --- | --- | --- | --- |
| Habitat | Habitat code | Area (ha) | Overall assessment |
| Embryonic shifting dunes | 2110 | 5,456 | U1 poor |
| Shifting dunes along the shoreline with Ammophila arenaria (white dunes) | 2120 | 28,232 | U1 poor |
| Fixed coastal dunes with herbaceous vegetation (grey dunes) | 2130* | 117,321 | U2 bad |
| Decalcified fixed dunes with Empetrum nigrum | 2140* | 23,377 | U1 poor |
| Atlantic decalcified fixed dunes (Calluno-Ulicetea) | 2150* | 2,271 | U2 bad |
| Dunes with Hippophae rhamnoides | 2160 | 14,439 | FV good |
| Dunes with Salix repens ssp. argentea (Salicion arenariae) | 2170 | 4,136 | U1 poor |
| Wooded dunes of the Atlantic, Continental and Boreal Region | 2180 | 129,807 | U1 poor |
| Humid dune slacks | 2190 | 14,751 | U2 bad |
| Machairs (* in Ireland) | 21A0 | 14,768 | U1 poor |
| Total for Atlantic region | | 354,558 | |
FV= Favourable; U1 = Unfavourable-inadequate; U2 = unfavourable-bad
The entire report with detailed analysis about the Atlantic dunes you will find HERE.
[1] https://www.eea.europa.eu/publications/state-of-nature-in-the-eu-2020
[2] https://www.eea.europa.eu/themes/biodiversity/state-of-nature-in-the-eu/article-17-national-summary-dashboards
[3] https://nature-art17.eionet.europa.eu/article17/
[4] The reports are national reports and do not give information by country or region. For example reports from England, Scotland, Wales and Northern Ireland are not on the EEA dashboards but can be found at https://jncc.gov.uk/our-work/article-17-habitats-directive-report-2019-habitats/
__________________________________________________________________________________________
LIFE - Strengthening Europe's sand dunes-2022-
Sand dunes are an important habitat for rare plants and wildlife. They also protect against erosion, flooding and storm damage. Learn how our LIFE projects are working to safeguard our dunes. detailed information. LIFE Nature publication highlights the issues threatening Europe's coastal habitats and how the LIFE program has addressed them. Download LIFE and Coastal Habitats pdf
LIFE-Projects with focus on dunes...
DUNIAS: Belgium 2021-2026, Project-Website, EU-LIFE-description
The overall goal of the LIFE DUNIAS project is to fight IAS in the Belgian coastal zone in a structured and concerted way. The project's specific objectives are to: Eradicate invasive alien plant species in all Flemish coastal dunes; Improve the conservation status of the target habitats by removing the pressure from IAS; Prevent the arrival of new IAS or return of eradicated IAS; Raise awareness with various target groups of the importance to take measures against IAS; Exchange knowledge on IAS distribution and best practices for combating IAS; and Improve an existing early warning system and stimulate volunteers to record IAS observations.
In May 2022, an expert workshop in the framework of the LIFE DUNIAS project in Belgium (Dune restoration by tackling IAS) occurred to work-out a list of invasive species in coastal dunes. Impressions of the workshop.
DUNAS: Portugal (Madeira) 2020-2025, Project-Website, EU-LIFE-description
CoastNet: Finland 2018-2025, Project-Website, EU-LIFE-description
The aim of the project is to restore important coastal and archipelagic habitats, such as sun-lihgt environments, coastal meadows, herb-rich forests and wooded pastures. The CoastNetLIFE Project aims to improve the conservation status of Natura2000 sites along the Baltic coastal zone of Finland and Estonia. The aim is to create a functional network of coastal habitats. The main focus is on open and semi-open environments that are typical of the coastal area. The project restores environments that are now in poor condition and supplement the network with new areas.
Dynamic Dunescapes: UK (England, Waldes) 2018-2023, Project-Website, EU-LIFE-description
Dynamic Dunescapes is a project restoring sand dunes across England and Wales for the benefit of people, communities and threatened dune wildlife. This project will restore nine key dune areas, from Cornwall to Cumbria. These key areas include 34 individual dune systems and cover up to 7,000 hectares. Natural England, Plantlife, National Trust, Natural Resources Wales, Wildlife Trusts, Cornwall Wildlife Trust, Lincolnshire Wildlife Trust and Cumbria Wildlife Trust are working in partnership to deliver this ambitious project. Running until 2023, this project will: restore sand dunes by carrying out pioneering conservation actions; raise awareness that healthy dunes need moving sand; encourage more people to explore, enjoy, and help protect the dunes through a program of innovative public engagement and citizen science events and activities; develop skills to manage dunes better, both now and in the future.
Email: dynamicdunescapes@naturalengland.org.uk for contact details of the team or to sign up for their email newsletter.
CALLIOPE: Italy, Cyprus 2018-2023, Project-Website, EU-LIFE-description
SANDS of LIFE: UK (Wales) 2018-2022: Project-Website, EU-LIFE-description Newsletter Email to SoLIFE@cyfoethnaturiolcymru.gov.uk
REDUNE: Italy 2017-2022, Project-Website, EU-LIFE-description
CoHaBit: Latvia 2016-2020, Project-Website, EU-LIFE-description
REWETDUNE: Denmark 2014-2019, Project-Website, EU-LIFE-description
ARCOS: Spain, 2014-2018, Project-Website, EU-LIFE-description Dune restoration can be supported by regrowth of typical plant species, e.g. grown in a plant nursery.
SOSS Dunes: Sardinia 2014-2017, Project-Website, EU-LIFE-description
Life FLANDRE: Belgium France 2013-2020, Project-Website Further Information: Memorandum and illustrated Layman's report
REDCOHA: Denmark 2013-2019, Project-Website, EU-LIFE-description
The focus of the layman's report 2019 is fighting Rosa rugosa in dunes and heathland, but also natural hydrology and establishment of bird islands are discussed.
SandLIFE: Sweden 2012-2018, Project-Website, EU-LIFE-description
Amsterdam Dunes: The Netherlands 2012-2016, Project-Website, EU-LIFE-description
MAESTRALE: Italy 2011-2017 Project-Website, EU-LIFE-description
Dutch Dune Revival: The Netherlands 2010-2016, Project-Website, EU-LIFE-description
Conference proceedings on Dynamic Dunes, the rejuvenation of dynamic dunes and restoration of dune habitats: Further information
More information about finished projects related to dunes, see: DUNES-LIFE
__________________________________________________________________________________________
More and more Information 2022 Back
Driftlines: Broschure about the life in and on drift lines (in Dutch) (2022) The beach: a large, empty stretch of sand between the sea and dunes, or a spectacular habitat? The latter of course! Because if you look closely, you will see that there is a lot to discover and experience in driftlines and on the beach. Jumping beach fleas, running birds or a crab that quickly crawls under the sand. With this booklet you will discover the wonderful nature. The brochure was commissioned by a Groene Strand project and is available in The Netherlands from the Stichting Duinbehoud.
Restoration of mobile dunes: Westhoek nature reserve (2022) The - in this rapport mentioned works in the Sahara- are part of the Flemish and French Interreg project "Vedette" for the cross-border dune belt between Dunkerque and Westende. Together with Belgian and French partners, ANB wants to restore the Flemish Dunes and make it more attractive and varied for people and nature! Further information: Provoost S., Arens B., Bovend'aerde L., Strubbe R. (2019) Interreg V VEDETTE - Studie 'best practices' omtrent het herstel van de dynamiek van stuifduinen, 105 p.
Blow-Out, Notch Development (2022) An article from the research group of Gerben Ruessink (Utrecht University), this time about the development of blowouts in the fore dune based on satellite observations. He had a student work on this a while ago, and his MSc thesis has been converted into an article. One of the sites they looked at is the Northwest Nature Core. Other sites include Skodbjerge in Denmark and Padre Island in Texas. The main result for the NNWN Core is Figure 7, where you see the development (in square meters) of the area "sand". If you divide by 10,000, you have the number of acres. You see a rapid increase in 2012/2013, which is of course the construction of the notches. After that, the number of hectares of sand increases over the years, expansion of the lobes, but with large seasonal variations. These variations have to do with vegetation that "recaptures" parts of the area in the summer, but dies back in the winter. This means, among other things, that you should always use images from the same part of the growing season when interpreting aerial photos or satellite images.
Van Kuik, N., De Vries, J., Schwarz, C., Ruessink, G. 2022 Surface-area development of fortune trough blowouts and associated parabolic dunes quantified from time series of satellite imagery. Aeolian Research, 57, 100812 https://doi.org/10.1016/j.aeolia.2022.100812
Moreover there is another detailed study about dune blow-outs / notch development:
Nijenhuis, M. 2022 Evolutie van de kerf: Een onderzoek naar succes- en faalfactoren van kerven in de zeereep. pdf
SAND COAST ST. PETER-ORDING, Germany: Protecting and restoring coastal habitats. The sandbanks, salt marshes, dunes and the forest of St. Peter-Ording are unique natural assets and protect the hinterland from floods. Some are part of the Wadden Sea National Park and World Heritage Site, others of a Natura 2000 protected area. However, the natural dynamics of the older dune areas in St. Peter-Ording have been lost due to dyking, forestation and housing development. Introduced species are causing and sea-level rise will cause further distress to the coastal habitats. The aim of the joint project "Sand Coast St. Peter-Ording" is to improve the condition of the coastal landscape and to contribute to adaptation to sea-level rise. It is implemented together with local partners and with accompanying scientific research efforts. Further Information (in German),
Questions? projekt(at)sandkueste-spo.de
DUNE MANAGER'S HANDBOOK The Dynamic Dunescapes partners have developed a comprehensive handbook discussing the wide range of dune management options available to address the issues faced by coastal sand dune systems, including overstabilisation and invasive species. Management interventions detailed include notches, grazing, turf-stripping and scrub clearance. This handbook is designed to be a useful, in-depth resource for sand dune site managers, and aims to keep our management techniques up to date for the needs of dune conservation in a variety of situations.
Jones, L., Rooney, P., Rhymes. J. and Dynamic Dunescapes partners (2021). The Sand Dune Managers Handbook. Version 1, June 2021. Produced for the Dynamic Dunescapes (DuneLIFE) project: LIFE17 NAT/UK/000570; HG-16-086436 DOWNLOAD
NITROGEN DEPOSITION in DUTCH DUNES (NL) DUNEA has been fighting the effects of nitrogen deposition in the areas managed for over 30 years. We do this with nature restoration projects and nitrogen-related management activities, such as: turf cutting, mowing and grazing. This has cost about 4 million euros in the past 10 years. The research into the effects of grazing did not prove that too much measures were taken. That is why we have switched to summer and winter grazing, for example. So you cannot 'manage away' the effects of nitrogen indefinitely. Reducing emissions is the only sustainable path to natural recovery. Further information (in Dutch)
COAST for KIDS (ES) A series of educational videos about the coast, for children, and also adults! Led by Irene Delgado-Fernandez, coastal geomorphologist, this series has resulted in a wonderful contribution to environmental education on the coast. 'Coasts for Kids is a collaborative experience between children and their parents, coastal scientists, community artists, teachers, animators and coastal managers. The series is aimed at kids aged 6 and over. It includes important concepts in coastal processes and coastal evolution in Episodes 1, 2 and 3, followed up by analyses of human impacts in Episode 4 and management actions in Episode 5. The series (trailer + 5 episodes) will be ready for free download shortly, and this will be communicated in our Youtube Channel (https://www.youtube.com/playlist?list=PLXgQva8tPStrhjCl3AiaayBAwMCh2x-xL) and via twitter/online networks (@IreneDelgadoFe2). Public videos available at (and ready to share). Play-list -- Trailer -- Episode 1 -- Episode 2 -- Episode 3 -- Episode 4 -- Episode 5 --
MANAGEMENT DEVELOPMENT in FRANCE (FR) Jean Favennec published about the management strategy of the coastal strip in France. This manuscript traces the development of management strategies since the 1960s (in French).
10 years of SAND MOTOR (NL) In 2011 started a pilot project: the Sand Motor. An artificial sandbank, a significant boost for innovative coastline maintenance and a perfect example of Building with Nature. Thanks to the influence of the wind and the sea currents, the Sand Motor has now grown into a beautiful nature reserve and recreational area. Its development is being closely followed and is receiving a great deal of international attention. Ten years of research and special collaborations have resulted in an innovative way to maintain the coastal area, new possibilities for the surroundings and a wealth of knowledge. A unique connection between nature, science and society. Further information
ENDURE - Ensuring Dune Resilience Against Climate Change an INTERREG Two Seas project 2014-2020. Further information
SAND DUNES, MOBILITY, and CULTURAL HERITAGE Research about sand dunes, their mobility (past, present, and future), and impacts on cultural heritage from the Atlantic coast of South West France, to the Low Countries, around the UK and the island of Ireland.The research theme centred on the idea that dune landscapes are rich in cultural heritage, yet their inherent dynamism and potentially increased future mobility, driven by climate change, may present new challenges for dune managers and dune stakeholders - challenges that need to be better understood. In addition to cataloguing the cultural heritage interests, also researched is the topic of physical dune mobility based on historic, contemporary, and projected future dune behaviour. To this end offering the following recommendations: 1. Recognise that cultural heritage features associated with sand dunes are of significant value in providing a tangible way to better understand shoreline change and engage with stakeholders. 2. Pursue a proactive programme of monitoring coastal change on sand dune sites in partnership with relevant agencies and research establishments with a specific emphasis on historic environment interests, adopting the SCAPE model from Scotland, and as appropriate linking to region and country Coastal Monitoring Observatories. 3. Put in place a more fleet-of-foot approach to achieving preservation by record that can be rapidly mobilised by having in place 'call-out contracts' to enable additional external expert help to be deployed in response to a storm event. 4. Review Trust sand dune locations to determine where, through acquisition or partnership working, it is possible to provide accommodation space for dune evolution inland or along the shoreline. 5. Contribute to the Dynamic Dunescapes project workstream 'Sand dune management handbook' to develop contemporary guidance for site managers that includes geomorphological, historic, and natural environment interests, climate change impacts and access issues. 6. Maintain and/or establish broad ranging sand dune management research partnerships with Universities and other research bodies for key Trust sand dune locations. The entire report: Dyke,P. (2020) Sand dunes, mobility and cultural heritage. National Trust. 125 pp - In memorian to Phil Dyke -
DEFINITION of FAVOURABLE CONSERVATION STATUS for COASTAL SAND DUNES (GB) This document sets out Natural England's view on Favourable Conservation Status (FCS) for coastal sand dunes in England. FCS is defined in terms of three parameters: natural range and distribution, area, and structure and function attributes.
Section 2 provides the summary definition of FCS. Section 3 covers contextual information, Section 4 the metrics used and Section 5 describes the evidence considered when defining FCS for each of the three parameters. Section 6 sets out the conclusions on favourable values for each of the three parameters. Annex 3 lists the references.
This document does not include any action planning, or describe actions, to achieve or maintain FCS. These will be presented separately, for example within strategy documents. The guidance document Defining Favourable Conservation Status in England describes the Natural England approach to defining FCS. Report as pdf download
COASTAL CHANGE and GOLF (GB) The 'Coastal Change and Golf Links Research Project' is established to identify current levels of coastal management understanding and engagement across links and cliff top golf courses. Further Information
LITTORAL 2017 Conference 'Change, Naturalness and People' Proceedings Further Information
RESTORING GREY DUNES by REACTIVATING SMALL-SCALE DYNAMICS (NL) In the context of Natura 2000, rare species and vegetation types in the Netherlands are protected in a European perspective. This report focuses on the H2130 Grey dunes Habitat type, for which the Netherlands has great responsibility within the EU. REPORT Further information on this issue (in Dutch) on the website www.natuurkennis.nl, e.g. Background report
SALT SPRAY DISTRIBUTION: a REVIEW Jianhui Du & Patrick Hesp published a review article on Salt Spray Distribution and Its Impact on Vegetation Zonation on Coastal Dunes. Salt spray is, after sand deposition, often considered the second dominant factor contributing to vegetation zonation in coastal dunes. Salt Spray mainly originates from the bursting of bubbles in breaking waves, is carried by wind, intercepted by coastal dunes and plants, and redistributed in the sand/soil after precipitation. In this paper, the literature on salt spray distribution and impact on dune plants are reviewed. SEE: Estuaries and Coasts
FOREDUNES: GEOMORPHOLOGY related to MANAGEMENT In their article "Geomorphologic characteristics and evolution of managed dunes on the South West Coast of France" Victor Bossard and Alexandre Nicolae Lerma describe a geomorphologic classification of foredunes along the Aquitaine coast and analyze relations between dune management actions and marine and aeolian driven processes. Summing up management strategies conducted on the Aquitaine coast, three scenarios are generally considered to face the consequences of severe marine erosion. In the light of chronic erosion and relatively low sediment availably dynamics, these scenarios integrate into a stable to receding coast. With further sea level rise over the next decades probably requires extensive new management strategies. And authors promote so-called "controlled dynamic strategy" or guided remobilisation in order to adapt these environments to actual and future pressures. SEE: Geomorphology
RESTORATION of COASTAL DUNES (NL) Coastal sand dunes are home to stunning, species-rich ecosystems and provide numerous services to mankind, such as storm protection, opportunities for tourism and production of drinking water. Most coastal sand dunes across Northwest Europe currently experience denser vegetation cover and geomorphological stabilisation, resulting in a rapid decline in biodiversity and loss of important services. Nature managers are therefore increasingly implementing pragmatic nature-based solutions to restore static dunes into dynamic ecosystems. Within the Aeolus meets Poseidon project (2014-2019), Utrecht University pioneered into landscape-scale dune restoration research with drinking water companies, water authorities and other Dutch public and private partners. Further information
Rabbits: Lessons from the past and abroad (2020) The OBN Research project "Restoring Rabbit populations in coastal dunes" is halfway through. Some first results are published in a newsletter (OBN, 2019). Restocking is a commonly used practice in wildlife management, and particularly for European wild rabbit (Oryctolagus cuniculus) in France, Portugal and Spain. Many populations are declining, primarily because of habitat destruction and both myxomatosis and rabbit haemorrhagic disease.
Now that the rabbit is not doing well in many coastal dune areas, there are proposals to move rabbits from populations with good density. When the rabbits have completely disappeared, reintroduction may be an option. But improving existing populations with low density earlier may be a better strategy. There are some small experiments in the Netherlands with local reintroduction or addition of rabbits. In addition to a discussion of Dutch projects the OBN project will also deal with a literature study. Experience from management by dune farmers in the 17th century, and the experiences in France and Spain are gathered.
Rabbit breeding sites in the Netherlands: It is instructive to see how the dune farmers ("Duinmeiers") in former days promoted rabbit populations. In the Netherlands in the 14th century already a system was created in the dunes of open warren "warandes" (breeding and hunting grounds), for commercial keeping of wild rabbits for their meat and fur. Information about their activities we owe Prof. Swaen for the translation of one of the oldest known manuscripts in the Dutch language, dealing with hunting and falconry from ± 1635. In sparsely populated areas of the dune warren the duinmeier made artificial caves with a special drill. He fed the rabbits in the winter with hay, oats and bran or willow prunings. The "Duinmeier" fought predators and birds of prey; which led even to the eradication of the fox in the Dutch dunes.
Experience from France and Spain: In France and Spain, many rabbits have been released or placed for hunting in the past, an estimated thousands per year. Nowadays also rabbits are managed for the conservation of native predators. We see the same management here as with the Dutch duinmeiers: sufficient food, making artificial nests and protection against predators. In Spain people make great efforts to preserve the rabbit as a prey animal for rare predators such as the Iberian Lynx (Lynx pardinus) and the Spanish Imperial Eagle (Aquila adalberti). Improving the habitat turned out to be one positive effect on the rabbit population. In this case was the reduction by burning low shrubs seemed to be effective. Various factors are studied in a large experiment: the season in which the introduction is made, the numbers that are added and the quality of the release area (nutrient-rich and nutrient-poor habitat). Success was measured by survival, the extent to which the rabbits remained in the area and the expected population growth. The highest success was achieved with a low number of released rabbits (40 on 15 ha) in a nutrient-rich habitat. Placing in the breeding season is unfavorable, because there are many conflicts about mating and nesting during this period, where animals chase or injure each other. But because of considerable lack of knowledge most of current rabbit management programs should be revised to optimize the use of available resources in the attainment of an effective rabbit density increase. Letty (2003) has done experiments in France with additions of rabbits. He found a high mortality in the first two weeks and strong dispersion (withdrawal) of the new rabbits. In a population that the researchers followed day by day in the first two days after release 41-51% of rabbits died from predation or stress. And also later predation led to a lower survival than in a population protected against predators. The rabbits settled up to 225 meters from the artificial nests in which they were released. Moreover, the surviving rabbits that were introduces did not take fully part in reproduction. In summary preliminary results show: Additional placement requires a lot of effort and is not always successful. A prerequisite for success is the suitability of the habitat. Protection against predators for a longer period is necessary.
Swaen, A.E.H.(red), 1948. Jacht-Bedryff. Brill, Leiden
Angulo, E., Calvete, C., Cabezas, S. &. Villafuerte, R. 2004: Scrub management and rabbit translocations at Doñana National Park: long and short-term effectiveness. 2nd world lagomorph conference.
Letty, J., Aubineau, J., Marchandeau, S. & Clobert, J. 2003: Effect of translocation on survival in wild rabbit (Oryctolagus cuniculus). - Mammalian Biology 68: 250-255.
OBN, 2019. NEWSLETTER Recovery rabbit populations in the coastal dunes– oktober 2019 (In Dutch)
Calluna heath die-back on the island Hiddensee (DE) Project include the study of the annual rings of Calluna vulgaris from two heathlands of different age, with the aim to find out whether plants died after the 2018 drought or before, and whether the die-back is related to their age and/or the growth of previous years. In addition, an experiment with rain-out shelters have been built to simulate drought, and vegetation (mainly heather) has been clipped to simulate browsing. Further information.
DUNES - Sea, Sand and People (PT) The project is an Environmental History project focused in the relation between people and coastal dunes.The team combines geologists, historians, geographers and biologists. Covering the last three centuries and using a transdisciplinary approach, our team will travel across borders and centuries to find out who were the pivotal actors that changed the course of history of coastal dunes. Further Information: http://dunes.letras.ulisboa.pt/en/project/
REDUCTION of NITROGEN INPUT by PRECIPITATION - an enthusiastic goal (NL) The Netherlands will allocate five billion euros 2020-2030 to tackle nitrogen precipitation. The Duinbehoud Foundation asks to invest primarily in the proper management of nature restoration projects and in the construction of buffers around the nature reserves. Originally, the Dutch dune area is nutrient-poor. For centuries, flora and fauna have established their survival strategies for this. Now nitrogen is seriously disrupting the ecosystem. In the Dutch dune areas, this is reflected in an excessive vegetation with shrubs and grasses. As a result, dunes hardly drift and the original species-rich vegetation, birds and insects disappear. Birds find less and less food in overgrown places in the dunes. Further information (in Dutch)
DUNE ROADMAP - ACTIONPLAN The action plan concerning knowledge exchange and networking during the period 2016-2020. The roadmap focus on the sustainable conservation and restoration of important habitats in dunes of the atlantic region. The roadmap will be reworked. Further information
Natterjack Toads on the island Sylt (DE) Natterjack Toads are threatened on the island of Sylt and their population declines. On the entire island management measure started, supporting in the short as well as in the long term the environmental conditions to maintain the Natterjack population. Further information (in German)
_________________________________________________________________________________________
PUBLICATIONS, e.g.
2023
Ciccarelli, D., Cini, E., Mo, A., Paterni, M., Massetti, L., Rangel-Buitrago, N., & Merlino, S. (2023). The assessment and management of plant invasions with Unmanned Aerial Vehicles. The Yucca gloriosa case, Italy. Regional Studies in Marine Science, 57, 102759. https://doi.org/10.1016/j.rsma.2022.102759
Fantinato, E., Tozzi, F. P., Stanisci, A., & Buffa, G. (2023). Alien plant colonisation and community homogenisation: Cause or consequence? A test in coastal dunes. Plant Biosystems-An International Journal Dealing with all Aspects of Plant Biology, (just-accepted), 1-18. https://doi.org/10.1080/11263504.2023.2176941
García-de-Lomas, J., Fernández, L., Martín, I. et al. (2023) Management of coastal dunes affected by shrub encroachment: are rabbits an ally or an enemy of restoration?. J Coast Conserv 27, 8 https://doi.org/10.1007/s11852-023-00933-3
Innangi, M., Marzialetti, F., Di Febbraro, M., Acosta, A. T. R., De Simone, W., Frate, L., ... & Carranza, M. L. (2023). Coastal Dune Invaders: Integrative Mapping of Carpobrotus sp. pl.(Aizoaceae) Using UAVs. Remote Sensing, 15(2), 503. https://doi.org/10.3390/rs15020503
Kammann, S., Schiefelbein, U., Dolnik, C., Mikhailyuk, T., Demchenko, E., Karsten, U., & Glaser, K. (2023). Successional Development of the Phototrophic Community in Biological Soil Crusts on Coastal and Inland Dunes. Biology, 12(1), 58. https://doi.org/10.3390/biology12010058
Stancheva, M., Ergin, A., Ozhan, E. et al. (2023) IN MEMORIAM: PROF. ALLAN T. WILLIAMS, a great scientist and friend!. J Coast Conserv 27, 4 (2023). https://doi.org/10.1007/s11852-022-00929-5
Villalobos Perna, P., Di Febbraro, M., Carranza, M. L., Marzialetti, F., & Innangi, M. (2023). Remote Sensing and Invasive Plants in Coastal Ecosystems: What We Know So Far and Future Prospects. Land, 12(2), 341. https://doi.org/10.3390/land12020341
2022
Andriolo U, Gonçalves G, Bessa F, Sobral P (2021) Spatial and size distribution of macro-litter on coastal dunes from drone images: A case study on the Atlantic coast. Marine Pollution Bulletin 169: 112490. https://doi.org/10.1016/j.marpolbul.2021.112490
Andriolo U, Gonçalves G (2022) Is coastal erosion a source of marine litter pollution? Evidence of coastal dunes being a reservoir of plastics. Marine Pollution Bulletin 174: 113307. https://doi.org/10.1016/j.marpolbul.2021.113307
Bauer B, Hesp P, Smyth T, Walker I, Davidson‐Arnott R, Pickart A, Grilliot M, Rader A (2022) Air flow and sediment transport dynamics on a foredune with contrasting vegetation cover. Earth Surface Processes and Landforms: https://doi.org/10.1002/esp.5425
Brus, D. J., Slim, P. A., Heidema, A. H., & Van Dobben, H. F. (2014). Trend monitoring of the areal extent of habitats in a subsiding coastal area by spatial probability sampling. Ecological indicators, 45, 313-319. https://doi.org/10.1016/j.ecolind.2014.04.007
Castillo JM, Mancilla-Leytón JM, Martins-Noguerol R, Moreira X, Moreno-Pérez AJ, Muñoz-Vallés S, Pedroche JJ, Figueroa ME, García-González A, Salas JJ (2022) Interactive effects between salinity and nutrient deficiency on biomass production and bio-active compounds accumulation in the halophyte Crithmum maritimum. Scientia Horticulturae 301: 111136
Castillo-Infante FR, Mendoza-González G, Rioja-Nieto R, Gallego-Fernández JB. 2021. Range Shifts in the Worldwide Expansion of Oenothera drummondii subsp. drummondii, a Plant Species of Coastal Dunes. Diversity 2021, 13, 603. https://doi.org/10.3390/d13110603
Cerrato, M., Ribas-Serra, A., Cortés-Fernández, I. et al. 2022, Effect of seawater salinity stress on Sporobolus pungens (Schreb.) Kunth, a halophytic grass of the mediterranean embryonic dunes. Plant Growth Regul https://doi.org/10.1007/s10725-022-00846-5
Cortés-Fernández I, Cerrato MD, Ribas-Serra A, Gil L (2022) Salinity effects on the germination and reproduction of Eryngium maritimum L. (Apiaceae). Flora 291: 152062. doi:https://doi.org/10.1016/j.flora.2022.152062
Decuyper, M., Van Den Dool, R., Slim, P. A., Kuiters, A. T., Jansen, J. M., & Sass-Klaassen, U. (2020). Population dynamics of Hippophae rhamnoides shrub in response of sea-level rise and insect outbreaks. PloS one, 15(5), e0233011. https://doi.org/10.1371/journal.pone.0233011
de Francesco, M. C., Tozzi, F. P., Buffa, G., Fantinato, E., Innangi, M., & Stanisci, A. (2022). Identifying Critical Thresholds in the Impacts of Invasive Alien Plants and Dune Paths on Native Coastal Dune Vegetation. Land, 12(1), 135. https://www.mdpi.com/2073-445X/12/1/135
De Jong, B., Keijsers, J. G., Riksen, M. J., Krol, J., & Slim, P. A. (2014). Soft engineering vs. a dynamic approach in coastal dune management: A case study on the north sea barrier island of ameland, the netherlands. Journal of Coastal Research, 30(4), 670-684. https://www.researchgate.net/profile/Michel-Riksen/publication/264001052_Soft_Engineering_vs_a_Dynamic_Approach_in_Coastal_Dune_Management_A_Case_Study_on_the_North_Sea_Barrier_Island_of_Ameland_The_Netherlands/links/56543d6008ae4988a7b00f7c/Soft-Engineering-vs-a-Dynamic-Approach-in-Coastal-Dune-Management-A-Case-Study-on-the-North-Sea-Barrier-Island-of-Ameland-The-Netherlands.pdf
Della Bella A (2022) Assessment of coastal dune restoration viability in the Veneto Region (Northeastern Italy).
Del Vecchio, S., Sharma, S. K., Pavan, M., Acosta, A. T. R., Bacchetta, G., De Bello, F., Isermann, M., Michalet, R., Buffa, G. (2022). Within-species variation of seed traits of dune engineering species across a European climatic gradient. Frontiers in Plant Science, 13. doi 10.3389/fpls.2022.978205
Fontan-Bouzas A, Andriolo U, Silva P, Batista P (2022) Wave impact analysis on a beach-dune system to support coastal management and nourishment works: the showcase of Mira, Portugal. Frontiers in Marine Science 9: 861569, https://doi.org/10.3389/fmars.2022.861569
Gao P, Dong J, Wang S, Zhang W, Yang T, Zhang J, Che D (2022) Cool-Warm Temperature Stratification and Simulated Bird Digestion Optimize Removal of Dormancy in Rosa rugosa Seeds. Frontiers in plant science 12: 808206
Grechushkina N. A., Chuvashov A. V., Golub V. B. 2022. Syntaxonomy of psammophytic communities of the Black and Azov Sea coasts (Krasnodar Territory). Rastitel'nost' Rossii. 43, 23–40. https://doi.org/10.31111/vegrus/2022.43.23
Haveman, R. (2022). Myosurus minimus in Betuwse boomkwekerijen - een plantensociologische uitweiding. – Stratiotes 58: 32-51. pdf
Jurkus E, Povilanskas R, Taminskas J (2022) Current trends and issues in research on biodiversity conservation and tourism sustainability. Sustainability 14: 3342
Kathmann H, van Natijne A, Lindenbergh R (2022) PROBABILISTIC VEGETATION TRANSITIONS IN DUNES BY COMBINING SPECTRAL AND LIDAR DATA. The International Archives Of Photogrammetry, Remote Sensing and Spatial Information Sciences 43: 1033-1040
Kutbay G, Türmen B (2022) Ellenberg ecological indicator values, tolerance values, species niche models for soil nutrient availability, salinity, and pH in coastal dune vegetation along a landward gradient (Euxine, Turkey). Turkish Journal of Botany 46. doi:10.55730/bot-2201-55
Lafon, P., Fouler, A., Dufay, J., Hardy, F. 2022, Contribution à la connaissance phytosociologique de la xérosère des dunes littorales non boisées d'Aquitaine (France). 94. 1-23. 10.34971/ajyq-qy86.
Laime, B., Tjarve, D., Znotitina, V., Laukaleja, Z. 2022, Distribution and Ecology of Neophyte Lactuca Tatarica Population on the East Baltic Sea Coast in Latvia" Proceedings of the Latvian Academy of Sciences. Section B. Natural, Exact, and Applied Sciences 76, 2, 267-277. https://doi.org/10.2478/prolas-2022-0040
Langkilde-Lauesen C, Strange N, Wilson KA (2022) Local scale prioritization of cost-efficient protection within the National Park Thy. Journal for Nature Conservation 68: 126218. doi:https://doi.org/10.1016/j.jnc.2022.126218
Menicagli, V., Balestri, E., Fulignati, S., Galletti, A. M. R., & Lardicci, C. (2022). Plastic litter in coastal sand dunes: Degradation behavior and impact on native and non-native invasive plants. Environmental Pollution, 120738. DOI:10.1016/j.envpol.2022.120738
Mooser A, Anfuso G, Stanchev H, Stancheva M, Williams AT, Aucelli PP (2022) Most Attractive Scenic Sites of the Bulgarian Black Sea Coast: Characterization and Sensitivity to Natural and Human Factors. Land 11: 70
Pinna, M.S., Cogoni , D., Bacchetta, G. et al. (2022) Assessing the potential for restoring Mediterranean coastal dunes under pressure from tourism. J Coast Conserv 26, 15. https://doi.org/10.1007/s11852-022-00860-9
Post V, Zhou T, Neukum C, Koeniger P, Houben G, Lamparter A, Šimůnek J (2022) Estimation of groundwater recharge rates using soil-water isotope profiles: a case study of two contrasting dune types on Langeoog Island, Germany. Hydrogeology Journal: 1-16
Provoost S, Van Gompel W, Vercruysse E (2022) 15 years of beach flora monitoring along the Belgian coast. Book of Abstracts.
Ruessink G, Sterk G, Smit Y, De Winter W, Hage P, Donker JJ, Arens SM (2022) Predicting monthly to multi‐annual foredune growth at a narrow beach. Earth Surface Processes and Landforms:
Sanromualdo-Collado A, Gallego-Fernández JB, Hesp PA, Martínez ML, O'Keeffe N, Ferrer-Valero N, Hernández-Calvento L. 2022. Environmental variables affecting an arid coastal nebkha. Science of Total Environment 815:152868. https://doi.org/10.1016/j.scitotenv.2021.152868
Šimanauskienė R, Linkevičienė R, Povilanskas R, Satkūnas J, Veteikis D, Baubinienė A, Taminskas J (2022) Curonian Spit Coastal Dunes Landscape: Climate Driven Change Calls for the Management Optimization. Land 11: 877
Smyth TAG, Wilson R, Rooney P, Yates KL (2022) Extent, accuracy and repeatability of bare sand and vegetation cover in dunes mapped from aerial imagery is highly variable. Aeolian Research 56: 100799. doi:https://doi.org/10.1016/j.aeolia.2022.100799
Stancheva M, Stanchev H, Zaucha J, Ramieri E, Roberts T (2022) Supporting multi-use of the sea with maritime spatial planning. The case of a multi-use opportunity development-Bulgaria, Black Sea. Marine Policy 136: 104927
2022, Caspian remnant coastal dunes: how do natural and anthropogenic factors impact on plant diversity and vegetation?, Plant Biosystems. DOI: 10.1080/11263504.2022.2065376https://doi.org/10.1007/s11852-021-00809-4
Tkachenko K, Kapelian A (2022) The History of the Introduction of Species of the Genus Rosa to St. Petersburg, Russia. In. Springer International Publishing, Cham, 581-588 pp.
Van der Loop JMM, van de Loo M, de Vries W, van Veenhuisen LS, van Kleef HH, Leuven RSEW (2022) Lessons learnt from large-scale eradication of Australian swamp stonecrop Crassula helmsii in a protected Natura 2000 site. Management of Biological Invasions 13(1): 101–117. https://doi.org/10.3391/mbi.2022.13.1.06
Van Kuik, N., De Vries, J., Schwarz, C., Ruessink, G. 2022 Surface-area development of fortune trough blowouts and associated parabolic dunes quantified from time series of satellite imagery. Aeolian Research, 57, 100812 https://doi.org/10.1016/j.aeolia.2022.100812
Zielinski O, Pieck D, Schulz J, Thölen C, Wollschläger J, Albinus M, Badewien TH, Braun A, Engelen B, Feenders C (2022) The Spiekeroog Coastal Observatory: A scientific infrastructure at the land-sea transition zone (southern North Sea). Frontiers in Marine Science: 2141
Zunzunegui M, Esquivias MP, Gallego-Fernández JB (2022) Spatial and seasonal patterns of water use in Mediterranean coastal dune vegetation. Plant and Soil: 1-22
__________________________________________________________________________________________
MEETINGS, EXCURSIONS
Various coastal events you will find here: https://www.eucc-d.de/events-conferences.html
EU Nature - Communicationplatform: Information and meetings mainly dealing particularly with Natura2000
_______________________________________________________________________________________
14th-16th March 2023 Dynamic Dunescapes Project Conference - ONLINE for free
Online registration is now OPEN for the Dynamic Dunescapes Project Conference.Registration is now open to join a livestream of the Dynamic Dunescapes project conference, discussing sand dune rejuvenation conservation and engagement activities, and celebrating the achievements of the project over the past three years.
Please visit dynamicdunescapes.co.uk/project-conference/ to book your free livestream ticket and join us virtually for all three days of talks, lessons and insights.
24th June 2023: International World Sand Dune Day; Dag van de Duinen, NL
The International World Sand Dune Day, the "Dag van de Duinen", in the Netherlands will be held on JUNE 24.
You will find information of the activities: "Dag van de Duinen"
3th-7th July 2023: ISLAND BIOLOGY Conference - Aeolian Islands; Lipari, Italy
The conference will host following sessions:
Islands biogeography and macro ecology.
Conservation on islands.
Evolution of islands and their biotas.
Island ecology.
Humans and islands.
Link to Information and registration
_______________________________________________________________________________________
LINKS
EUROPE
The Coastal & Marine Union EUCC is a stakeholder and network association with expert members and NGO member organisations in 40 countries.
Commission on Coastal Systems (CCS) of the International Geographical Union (IGU) WWW
EU Nature Communicationplatform WWW Information and meetings mainly dealing particularly with Natura2000
Eurosite WWW
WADDEN SEA
TMAP Saltmarshes and Dunes WWW
MEDITERRANEAN COAST
Mediterranean Coastal Foundation WWW
ATLANTIC
EUCC Atlantique
BELGIUM
Agentschap voor Natuur en Bos (ANB) WWW
Agentschap Maritieme Dienstverlening en Kust (MDK)/Maritime and Coastal Services WWW
Instituut voor Natuur- en Bosonderzoek (INBO)/Research Institut Nature and Forest WWW
Natuurpunt WWW
BULGARIA
Center for Coastal and Marine Studies (CCMS) WWW coastal aspects along the Black Sea
DENMARK
FINLAND
Finnish expert group on shore habitats is this (so far only in Finnish)
WWW
FRANCE
EUCC France WWW
EUCC-France organize, for more than twenty years, two field workshops each year, on coastal issues. These "ateliers de terrain" are field visits the day 1 and discussion the day 2. On the website (www.euccfrance.fr) you can find the guide booklet and the report of these workshops (in French), e.g. report of the last "atelier" at Biscarrosse, dune zone on the aquitaine coast.
President: Jean Favennec jeanfaven(at)numericable.fr
President: d'honneur Yvonne Battiau-Queney yvonne.battiau(at)orange.fr
Secrétaire Générale: Sandrine Aubié sandrine.aubie(at)wanadoo.fr
Conservatoire du littoral WWW
Coastline observatories network in France The Observatory of the coast with interactive maps allow to visualize the elements collected by all participating structures. Observatory of the Aquitaine coast, Observatory of the north of France, Observatory of Pays de la Loire
GREAT BRITAIN
UK Sand Dune and Shingle Network WWW
National Trust WWW
Natural England WWW
NatureScot WWW
Natural Resources Wales WWW
East Grampian Coastal Partnership: The Aberdeen Institute for Coastal Science and Management (AICSM) works alongside the East Grampian Coastal Partnership (EGCP) in a range of coastal projects. WWW
ITALY
THE NETHERLANDS
Stichting Duinbehoud https://www.duinbehoud.nl/
Stichting Duinbehoud is a foundation for the protection of the coast. In the interest of nature and people who want to enjoy it. Together with donors, volunteers and other organizations, they join forces to expertly solve problems in the dune area. Dune conservation regularly advises the government and managers to better protect nature or to set up new nature reserves. By providing information, conducting campaigns, consultation and – as a last resort – legal proceedings, Dune Conservation strengthens nature along the coast.
Dune conservation has three 'big' objectives:
1. Dune conservation: conservation of nature and landscape in the (young and old) Dutch dunes.
2. Dune restoration: restoration of valuable dune nature and landscapes.
3. Dune experience: dune conservation and restoration is also available for people.
They publish regularly and with a long tradition the Journal DUIN https://www.duinbehoud.nl/duin-magazine/, as well as a newsletter "DuinTopics".
Kennisnetwerk Ontwikkeling en Beheer Natuurkwaliteit (OBN)/OBN Knowledge Network WWW

'In the OBN Knowledge Network, researchers, conservation site managers, universities, consultancies, NGO's and governmental bodies, such as provinces and water boards, closely cooperate to restore ecosystems and nature reserves. In this network, knowledge and practice intermingle, and science and nature management jointly look for the most effective approaches to enhance sustainable conservation of important ecosystems in the Dutch landscapes. Since 2006 The OBN Knowledge network formulates each 4 to 5 years its mission statement and knowledge agenda which is leading in all OBN related activities. Based on this mission statement, landscape-based 'Expert Teams' are working on the development, dissemination and implementation of knowledge on restoration and rehabilitation of nature reserves, on issues regarding Natura 2000 and the EU Water Framework Directive, as well as on distribution problems of individual species. During the last decade, the OBN Knowlegde Network is also focusing on environmental problems, such as the effects of atmospheric nitrogen deposition, climate change, sea level rise, coastal defense, flood risks, and other changes in the hydrological systems. In these fields of research, the network cooperates with many research institutes.
Core message
The Dutch OBN Knowledge Network for Nature Restoration and Management
• is an independent and innovative platform where policy makers, site managers and scientists cooperate in the management and restoration of natural areas;
• it develops and disseminates knowledge to enhance nature quality management and conservation in the Dutch lansdcapes and in the Atlantic Region.'
Natuurmonumenten WWW
Puur Water & Natuur (PWN) WWW
Rijkswaterstaat/Dutch Ministry of Infrastructure and Water WWW
Staatsbosbeheer WWW
Waddenacademie WWW
POLAND
Dunes in Poland WWW
__________________________________________________________________________________________
FIELD STATIONS
FINLAND, Baltic Sea
Archipelago Research Institute (University of Turku), https://sites.utu.fi/seili/en/title/
Husö Biological Station (Åbo Akademi University), https://www.abo.fi/en/huso-biological-station/
Nåtö Biological Station (Societas pro Fauna et Flora Fennica), https://www.societasfff.fi/nato-biological-station?lang=en
Tvärminne Zoological Station (University of Helsinki), https://www2.helsinki.fi/en/research-stations/tvarminne-zoological-station
Valsörarna Biological Station (Ostrobothia Australis), https://www.oa.fi/valsorarna/
Hanko Bird Observation Station (Tringa ry), https://www.halias.fi/
Jurmo Bird Observation Station (TLY ry), https://www.tly.fi/jurmon-lintuasema/
Perämeri Biological Field Station (University of Oulu), https://www.oulu.fi/fi/tutkimus/tutkimusinfrastruktuurit/biodiversiteettiyksikko/perameren-tutkimusasema
GERMANY, North Sea
Carolinensiel (University of Muenster). https://www.uni-muenster.de/Biologie.Zoophysiologie/Station/ Contact: Dr. Hans-Ulrich Steeger, steeger (at) uni-muenster.de
Wittbülten Research Station Spiekeroog. https://www.nationalparkhaus-wittbuelten.de/de/forschung/forschungszentrum_wittbuelten.html Contact: forschung (at) wittbuelten.de
AWI Helgoland. https://www.awi.de/en/about-us/sites/helgoland.html

GERMANY, Baltic Sea
Zingst Biological Station (University of Rostock), https://www.bsz.uni-rostock.de, PD Dr. Rhena Schumann, rhena.schumann (at) uni-rostock.de
Hiddensee Biological Station (University of Greifswald), https://biologie.uni-greifswald.de/struktur/zentrale-einrichtungen/biologische-station-hiddensee/ PD Dr. Irmgard Blindow, blindi (AT) uni-greifswald.de
THE NETHERLANDS, North Sea
Schiermonnikoog Field Station (University of Groningen) https://twitter.com/hanolff/status/1438486103749713926, Contact: Prof. Dr. Han Olff, h.olff (AT) rug.nl
__________________________________________________________________________________________
CONTACT
Maike Isermann, mail: dunes-d (at) eucc-d.de