BEACH AND DUNE NETWORK
BEACH and DUNE NETWORK - Germany
Welcome to the BEACH and DUNE NETWORK - Germany

Why a coastal dune network?
Coastal dunes are one of the most threatened habitats in Europe. They offer habitats for various, often specialised animals and plants; and the unique landscape constitute an important service for human well-being. Human pressure, landscape use and the nature values result in conflicts of interests.
Aims of the Coastal network, to
We set out to achieve this by
Who is involved?
The Network includes, amongst others, site managers, national policy makers, students, researchers, ecologists, geomorphologists, hydrologists, foresters, coastal engineers, tourism managers.... . Events always involve a cross-section of interests to bridge the gap between disciplines and to encourage lively debate.
Members' distribution (2021)
There are some national and regional dune networks already formed in several countries.
Join the Network
Financing
Contact
Do you have hints or ideas for improving our network or holding events, or do you know people who could support the Beach and Dune Network? If so, please send us an email to Maike Isermann dunes-d (at) eucc-d.de.
BACKtoSTART
__________________________________________________________________________________________
Rediscover: EUCC Coastal & Marine -2021-
The EUCC-webpage has relaunched, and you will find more coastal and marine features.
__________________________________________________________________________________________
IMPRESSIONS OF EUROPEAN DUNES & COASTS -2021-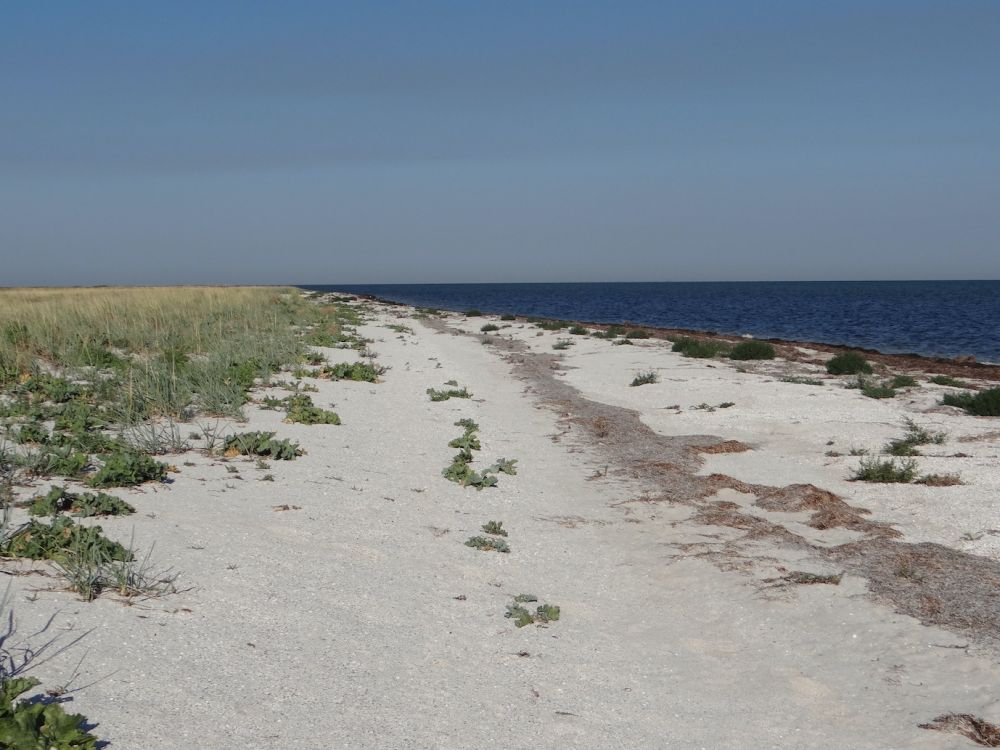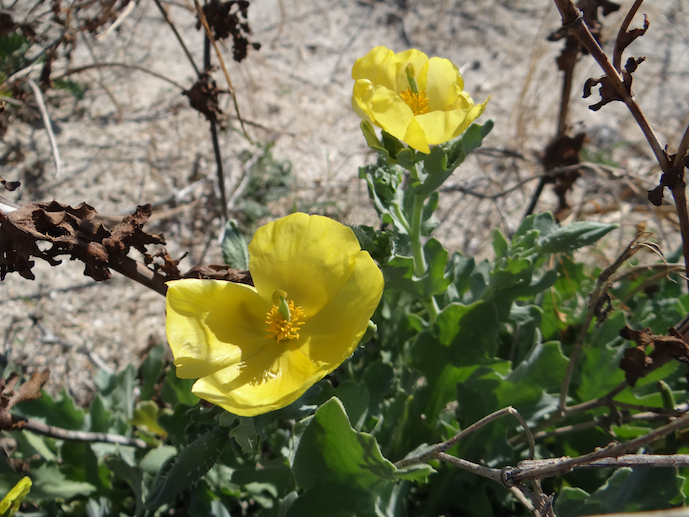 Coastal dune strip along the Azov Sea (above) with Glaucium flavum (below) one species of the Red Book of the Ukraine @ Vitalii Kolomiichuk; Institute of Biology and Medicine, National Taras Shevchenko University of Kyiv, Ukraine
________________________________________________________________________________________
RESEARCH, MANAGEMENT, CONSERVATION, EDUCATION...
_______________________________________________________________________________________
The State of Coastal Dunes of the Atlantic Biogeographical Region 2020
John Houston, GB, houstonjohn37(at)gmail.com
Note: This summary is derived from the Article 17 data published by the European Environment Agency in 2020. The information was correct at the time of writing in October 2020 but subsequent edits may have changed some information and web links may have changed.
State of nature in the EU 2020
The European Environment Agency published the report State of nature in the EU on 19th October 2020[1]. The report is an analysis of the data provided by Member States reporting under the nature directives 2013-2018. For Habitats Directive habitats and species the detailed information by member state and biogeographical region is published in a series of dashboards[2] and the Article 17 web-tool[3]. These can be used to check the current status and trends of habitats and species by Member State, by biogeographic region, by habitat type or species and to compare this information with reports from 2001-2006 and 2007-2012. Links in the Article 17 web-tool give access to Member State reports reported by biogeographical region[4].
Across all habitat groups, dunes (21 coastal and inland habitat types), along with bogs, mires and fens, have the highest percentage (>50%) of bad assessments and a low number of good assessments. These 'dune habitats' include the 10 habitats making up the Habitats Directive sub-group Sea dunes of the Atlantic, North Sea and Baltic coast, 7 habitats in Sea dunes of the Mediterranean coast and 4 habitats in Inland dunes, old and decalcified.
© EEA 2020
According to Member States assessments the total area of all Annex I dune habitats (coastal and inland) is 9,200 km2, the smallest area of any habitat group. Compare this, for example, to the reported 406,000 km2 of coastal habitats. As a consequence any proposed restoration targets for coastal dunes are relatively small in the big picture. Working together, however, e.g. through the Natura 2000 Biogeographical Process, will help to ensure that habitat restoration and habitat creation opportunities are promoted.
Coastal dunes in the Atlantic biogeographical region
This note is derived from the information from the Article 17 reports for the Member States in the Atlantic Biogeographical Region (i.e. Denmark, Germany, The Netherlands, Belgium, France, Spain, Portugal, UK and Ireland). Only The Netherlands, Belgium, UK and Ireland lie wholly within the Atlantic region. The EEA State of nature report 2020 includes data for the UK which was still a member of the EU in the reporting period. The UK, however, will no longer take part in future Article 17 reporting, although information on habitat and species status will continue to be monitored. This, therefore, will be the last EEA report which presents information from the nine countries in the Atlantic biogeographical region.
The Atlantic biogeographical region holds the largest area of coastal dune habitat in EU-28 (43%) but also has the lowest percentage of habitat in good condition (28%).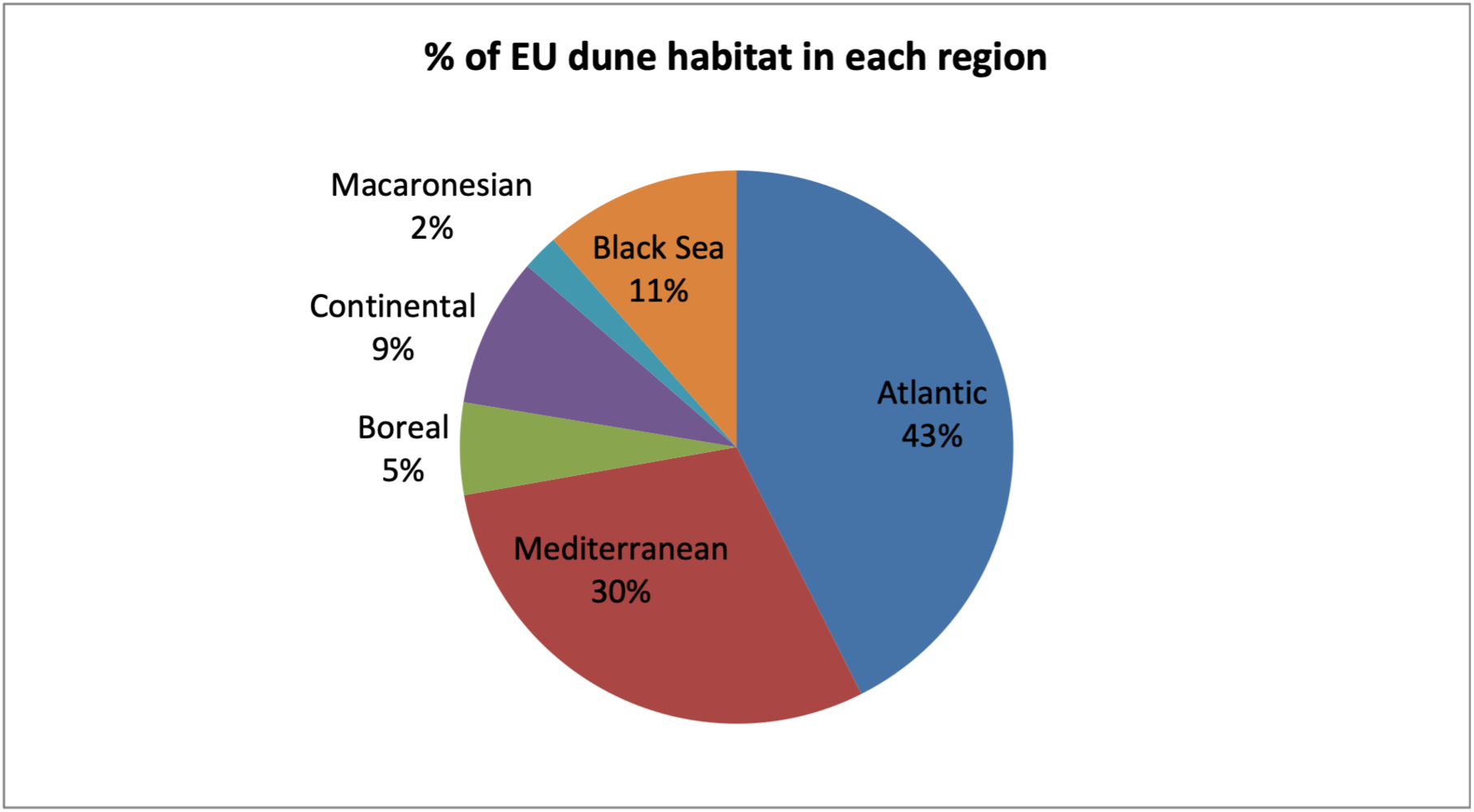 The main set of Habitats Directive Annex I coastal dune habitats of the Atlantic biogeographical region are in the sub-group of the Interpretation Manual of EU Habitats 'Sea Dunes of the Atlantic, North Sea and Baltic coast', i.e:
2110 Embryonic shifting dunes
2120 Shifting dunes along the shoreline with Ammophila arenaria (white dunes)
2130* Fixed coastal dunes with herbaceous vegetation (grey dunes)
2140* Decalcified fixed dunes with Empetrum nigrum
2150* Atlantic decalcified fixed dunes (Calluno-Ulicetea)
2160 Dunes with Hippophae rhamnoides
2170 Dunes with Salix repens ssp. argentea (Salicion arenariae)
2180 Wooded dunes of the Atlantic, Continental and Boreal Region
2190 Humid dune slacks
21A0 Machairs (* in Ireland)
* Signifies that the habitat is a priority habitat
The overall distribution and condition of these habitats in Atlantic biogeographical region (i.e. the total for nine Member States) is:
| | | | |
| --- | --- | --- | --- |
| Habitat | Habitat code | Area (ha) | Overall assessment |
| Embryonic shifting dunes | 2110 | 5,456 | U1 poor |
| Shifting dunes along the shoreline with Ammophila arenaria (white dunes) | 2120 | 28,232 | U1 poor |
| Fixed coastal dunes with herbaceous vegetation (grey dunes) | 2130* | 117,321 | U2 bad |
| Decalcified fixed dunes with Empetrum nigrum | 2140* | 23,377 | U1 poor |
| Atlantic decalcified fixed dunes (Calluno-Ulicetea) | 2150* | 2,271 | U2 bad |
| Dunes with Hippophae rhamnoides | 2160 | 14,439 | FV good |
| Dunes with Salix repens ssp. argentea (Salicion arenariae) | 2170 | 4,136 | U1 poor |
| Wooded dunes of the Atlantic, Continental and Boreal Region | 2180 | 129,807 | U1 poor |
| Humid dune slacks | 2190 | 14,751 | U2 bad |
| Machairs (* in Ireland) | 21A0 | 14,768 | U1 poor |
| Total for Atlantic region | | 354,558 | |
FV= Favourable; U1 = Unfavourable-inadequate; U2 = unfavourable-bad
The entire report with detailed analysis about the Atlantic dunes you will find HERE.
[1] https://www.eea.europa.eu/publications/state-of-nature-in-the-eu-2020
[2] https://www.eea.europa.eu/themes/biodiversity/state-of-nature-in-the-eu/article-17-national-summary-dashboards
[3] https://nature-art17.eionet.europa.eu/article17/
[4] The reports are national reports and do not give information by country or region. For example reports from England, Scotland, Wales and Northern Ireland are not on the EEA dashboards but can be found at https://jncc.gov.uk/our-work/article-17-habitats-directive-report-2019-habitats/
__________________________________________________________________________________________
LIFE - Strengthening Europe's sand dunes-2021-
Sand dunes are an important habitat for rare plants and wildlife. They also protect against erosion, flooding and storm damage. Learn how our LIFE projects are working to safeguard our dunes.
detailed info: https://cinea.ec.europa.eu/news/strengthening-europes-sand-dunes-2021-06-23_en'
LIFE Nature publication highlights the issues threatening Europe's coastal habitats and how the LIFE program has addressed them. Download pdf: LIFE and coastal habitats
LIFE-Projects with focus on dunes...
DUNIAS: starting soon
DUNAS: Portugal (Madeira) 2020-2025, Project-Website, EU-LIFE-description
CoastNet: Finland2018-2025, Project-Website, EU-LIFE-description
The aim of the project is to restore important coastal and archipelagic habitats, such as sun-lihgt environments, coastal meadows, herb-rich forests and wooded pastures. The CoastNetLIFE Project aims to improve the conservation status of Natura2000 sites along the Baltic coastal zone of Finland and Estonia. The aim is to create a functional network of coastal habitats. The main focus is on open and semi-open environments that are typical of the coastal area. The project restores environments that are now in poor condition and supplement the network with new areas.
Dynamic Dunescapes: UK (England, Waldes) 2018-2023, Project-Website, EU-LIFE-description
Dynamic Dunescapes is a project restoring sand dunes across England and Wales for the benefit of people, communities and threatened dune wildlife. This project will restore nine key dune areas, from Cornwall to Cumbria. These key areas include 34 individual dune systems and cover up to 7,000 hectares. Natural England, Plantlife, National Trust, Natural Resources Wales, Wildlife Trusts, Cornwall Wildlife Trust, Lincolnshire Wildlife Trust and Cumbria Wildlife Trust are working in partnership to deliver this ambitious project. Running until 2023, this project will: restore sand dunes by carrying out pioneering conservation actions; raise awareness that healthy dunes need moving sand; encourage more people to explore, enjoy, and help protect the dunes through a program of innovative public engagement and citizen science events and activities; develop skills to manage dunes better, both now and in the future.
Email: dynamicdunescapes@naturalengland.org.uk for contact details of the team or to sign up for their email newsletter.
CALLIOPE: Italy, Cyprus 2018-2023, Project-Website, EU-LIFE-description
SANDS of LIFE: UK (Wales) 2018-2022: Project-Website, EU-LIFE-description Email: SoLIFE@cyfoethnaturiolcymru.gov.uk to receive their newsletter
REDUNE: Italy 2017-2022, Project-Website, EU-LIFE-description
CoHaBit: Latvia 2016-2020, Project-Website, EU-LIFE-description
REWETDUNE: Denmark 2014-2019, Project-Website, EU-LIFE-description
For more information, please have a look at: https://naturstyrelsen.dk/naturbeskyttelse/naturprojekter/life-hulsig-hede/, https://www.youtube.com/watch?v=-OwmzWE0Rbw&feature=youtu.be, https://naturstyrelsen.dk/naturbeskyttelse/naturprojekter/life-raabjerg-mose/
ARCOS: Spain, 2014-2018, Project-Website, EU-LIFE-description
SOSS Dunes: Sardinia 2014-2017, Project-Website, EU-LIFE-description
Life FLANDRE: Belgium France 2013-2020, Project-Website, https://webgate.ec.europa.eu/life/publicWebsite/project/details/3792
The signed Memorandum https://www.natuurenbos.be/sites/default/files/inserted-files/memorandum-protocole_westkust-dunes_de_flandre_14-02-2020.pdf An illustrated report, you will find: Layman's Report of the LIFE+ FLANDRE project
REDCOHA: Denmark 2013-2019, Project-Website, EU-LIFE-description
The focus of the layman's report 2019 is fighting Rosa rugosa in dunes and heathland, but also natural hydrology and establishment of bird islands are discussed.
SandLIFE: Sweden 2012-2018, Project-Website, EU-LIFE-description
Amsterdam Dunes: The Netherlands 2012-2016, Project-Website, EU-LIFE-description
MAESTRALE: Italy 2011-2017 Project-Website, EU-LIFE-description
Dutch Dune Revival: The Netherlands 2010-2016, Project-Website, EU-LIFE-description
Conference proceedings on Dynamic Dunes, the rejuvenation of dynamic dunes and restoration of dune habitats: Further information
More information about finished projects related to dunes, see: DUNES-LIFE
__________________________________________________________________________________________
Dynamic Dune Management in Practise-2021-
Luc Geelen, Waternet, NL
Netherlands Center for Coastal Research (a cooperation of the coastal knowledge institutes) organized a theme in September. The NCK theme day 'Dynamic dune management in practice' shared and discussed the latest insights into dynamic dune management from recent projects such as Spanjaards Duin, Hondsbossche Duinen and Prins Hendrik Zanddijk. One of the biggest challenges in these projects is the balance between allowing dynamics for nature and flood risk management functions. Because these projects have created dune areas from scratch, they require an adaptive approach. The value of these types of projects for coastal research in general and the Dutch coastal landscape or specifically N2000 dune nature in particular was discussed. The location and the field visit zoomed in on the development of Spanjaards Duin! In the winter of late 2008 - early 2009 Spanjaards Duin was constructed on the coastal stretch near 's Gravezande (ZH) as a compensation for Port development in Rotterdam Maasvlakte 2. For the first time, a dune area was created with sea nourishment sand that was to provide space for high-quality gray dune and dune valleys. vegetation within a predetermined time frame of 25 years. The legal compensation project for Maasvlakte 2, in other words, whereby dune values ​​that would be lost in Voorne had to be compensated in development of Spanjaards Duin: H2190 and H2130 in specifically imposed hectares, verifiable to be achieved in 2032!
There is therefore policy/administrative pressure from the Port Authority who demonstrably want to achieve the nature compensation objective based on their specific interests. There is therefore quite a bit of monitoring to assess progress towards goals. Spanjaards Duin's project and management was summarized as dynamic if possible and adaptive if necessary
Adaptive management appeared to be necessary to achieve a suitable starting situation for moist dune valley vegetation (H2190).
hydrology is not sufficiently well predicted in advance (also a problem with the sand engine) and the large amount of shells in the intended valley caused "dessert pavement", which blocked the drift to groundwater level. : so excavators have been working towards ground level.
because H2190 and H2130 are a strict target, blow-through holes in the new foredune were closed to prevent the valley from becoming overblown with sand.
vegetation development has been stimulated with the input of hay from locations with "target habitat" ie the Meijendel and Kennemerstrand valleys. In places where this clipping was introduced, you clearly saw accelerated succession with more target species present
increase in sea buckthorn is going very fast and Zuid Hollands Landschap is pulling out sea buckthorn with volunteers. Follow-up management may have to intensify in the coming years (nitrogen input is high there!)
Hay (with seed) has also been introduced for acceleration H2130 and also a reduction in dynamics (H2120!)
It was an interesting discussion about the feasibility of nature goals with the strictness of the habitat objectives in relation to the desired dynamics in the context of coastal management.
__________________________________________________________________________________________
Dunescapes Sand Dune Manager's Handbook-2021-
The Dynamic Dunescapes partners have developed a comprehensive handbook discussing the wide range of dune management options available to address the issues faced by coastal sand dune systems, including overstabilisation and invasive species. Management interventions detailed include notches, grazing, turf-stripping and scrub clearance. This handbook is designed to be a useful, in-depth resource for sand dune site managers, and aims to keep our management techniques up to date for the needs of dune conservation in a variety of situations.
Jones, L., Rooney, P., Rhymes. J. and Dynamic Dunescapes partners (2021). The Sand Dune Managers Handbook. Version 1, June 2021. Produced for the Dynamic Dunescapes (DuneLIFE) project: LIFE17 NAT/UK/000570; HG-16-086436
__________________________________________________________________________________________
A series of educational videos about the coast, for children, and also adults! Led by Irene Delgado-Fernandez, coastal geomorphologist, this series has resulted in a wonderful contribution to environmental education on the coast.
'Coasts for Kids is a collaborative experience between children and their parents, coastal scientists, community artists, teachers, animators and coastal managers. The series is aimed at kids aged 6 and over. It includes important concepts in coastal processes and coastal evolution in Episodes 1, 2 and 3, followed up by analyses of human impacts in Episode 4 and management actions in Episode 5.
__________________________________________________________________________________________
Management development in France-2021-
Sandrine Aubié, EUCC-France
Jean Favennec published about the management strategy of the coastal strip in France. This manuscript traces the development of management strategies since the 1960s (in French).
__________________________________________________________________________________________
10 years of Sand Motor-2021-
In 2011 started a pilot project: the Sand Motor. An artificial sandbank, a significant boost for innovative coastline maintenance and a perfect example of Building with Nature. Thanks to the influence of the wind and the sea currents, the Sand Motor has now grown into a beautiful nature reserve and recreational area. Its development is being closely followed and is receiving a great deal of international attention.
Ten years of research and special collaborations have resulted in an innovative way to maintain the coastal area, new possibilities for the surroundings and a wealth of knowledge. A unique connection between nature, science and society.
Further information: https://dezandmotor.nl/en/10-years-of-sand-motor-connecting-nature-science-and-society/#
https://pure.tudelft.nl/portal/files/53666598/2019_Luijendijk_van_OUdenhoven_eds_The_Sand_Motor_A_Nature_Based_Response_to_Climate_Change_NATURECOAST.pdf
__________________________________________________________________________________________
ENDURE - Ensuring Dune Resilience Against Climate Change-2021-
Mel Gillings, Biodiversity Projects Officer, Norfolk County Council
ENDURE is an INTERREG Two Seas project 2014-2020 testing ways to make our sand dunes more resilient. www.endure.eu.com.
The project will look at establishing sand dunes as adaptive, living sea defences. Many traditional concrete sea defences are old and failing and can be expensive or challenging to maintain. Natural ecosystems can provide better, more resilient protection: sand dunes naturally migrate, flex and evolve to create a self-replenishing barrier to the sea.
However, this adaptive ability is often compromised by poor and/or reactive management that deals with the aftermath of erosion or flooding events, rather than preventing these events from happening in the first place.
Over three years the project partnership will work collaboratively using the best of cutting-edge science, design and innovation, to develop a coastline with more natural resilience to erosion, flooding and rising sea levels.
The newsletter is also available in French and Dutch via the website: latest-news
__________________________________________________________________________________________
From the Polish Coast-2021-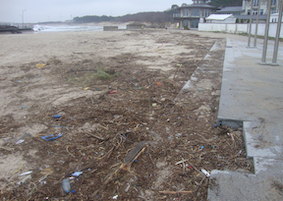 Tomasz Arkadiusz Łabuz, University of Szczecin, Poland
Storms and high tides since years bring a lot of litter to the beach. Is there any change in the amount and the composition of the litter?
Embryonic dunes with Honckenya peploides, measured in surface and height since 2017, increase. Is there any relation to storms, growing beaches, tourism?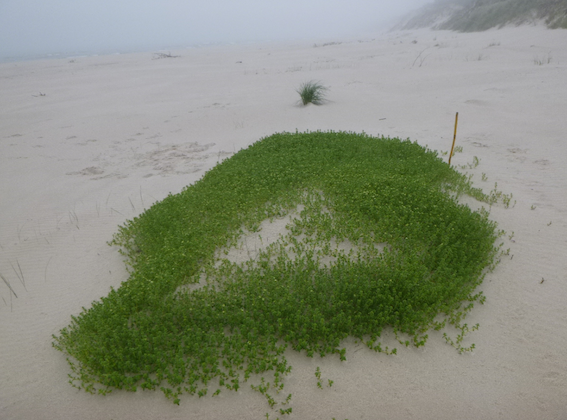 New plant species arrived at the Polish Coast, e.g. Elymus farctus is spreading. How is the relation to geomorphology and climate change?
Well known dune grasses occur, Ammophila arenaria, x Calammophila baltica, Calamagrostis epigejos. But along the Polish Coast a taxon with a much larger flowering stand occur. An answer to the systematic is still missing.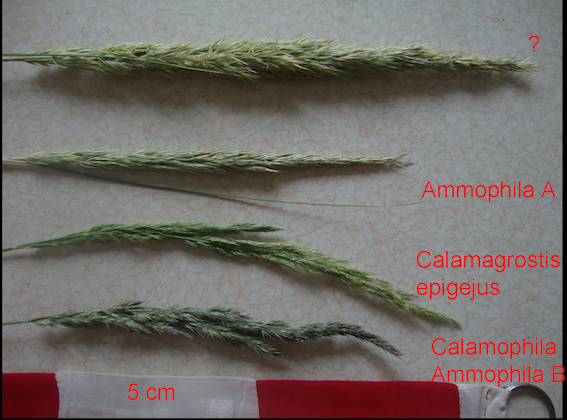 __________________________________________________________________________________________
REPORT: SAND DUNES, MOBILITY, AND CULTURAL HERITAGE-2021-
- In memorian to Phil -
https://www.nationaltrust.org.uk/profiles/phil-dyke
Phil Dyke, Coast and Marine Adviser, National Trust, Research Associate University of York, Great Britain
Dyke,P. (2020) Sand dunes, mobility and cultural heritage. A report to the National Trust. 125 pp.
Research about sand dunes, their mobility (past, present, and future), and impacts on cultural heritage from the Atlantic coast of South West France, to the Low Countries, around the UK and the island of Ireland.
__________________________________________________________________________________________
Report: DEFINITION OF FAVOURABLE CONSERVATION STATUS FOR COASTAL SAND DUNES-2021-
Sue Rees, Natural England
This document sets out Natural England's view on Favourable Conservation Status (FCS) for coastal sand dunes in England. FCS is defined in terms of three parameters: natural range and distribution, area, and structure and function attributes.
Section 2 provides the summary definition of FCS in England. Section 3 covers contextual information, Section 4 the metrics used and Section 5 describes the evidence considered when defining FCS for each of the three parameters. Section 6 sets out the conclusions on favourable values for each of the three parameters. Annex 3 lists the references.
This document does not include any action planning, or describe actions, to achieve or maintain FCS. These will be presented separately, for example within strategy documents. The guidance document Defining Favourable Conservation Status in England describes the Natural England approach to defining FCS.
__________________________________________________________________________________________
SUPPORT OF GREEN BEACH NEAR OUDDORP, THE NETHERLANDS-2021-
Krijn Tanis, Stichting Duinbehoud
From spring 2021 there will no longer be cleaning machines on a two-kilometer stretch of beach near Ouddorp. Any seaweed that remains is good for the birds that nest on the beach.
The stretch of beach between the lighthouse and De Vrijheid is the first official green beach of Goeree-Overflakkee. From now on, rubbish will be removed manually by a group of volunteers. The seaweed just remains, allowing all kinds of small life to grow.
The beach had become a blank sandbox in recent years, all life was gone. Machines clean the beach. As a result, birds, such as the ringed plover that breeds on the Ouddorp beach, cannot find food.
Agreements have been made with the municipality to better protect nature. Not only does cleaning no longer take place, but it has also been determined that cars (from the water board, municipality, ...) will all run on one track from now on. Signs will be placed to explain to visitors why a green beach is important and why dogs, for example, are not allowed to run loose during the breeding season.
__________________________________________________________________________________________
DRIFT-LINES, GREEN BEACHES...-2021-
Turning the Plastic Tide (TTPT) project - which is funded by the EMFF - responsible for beach cleans in Aberdeen and Aberdeenshire. EGCP Ltd is a not-for-profit limited company representing individuals and organisations who have an interest in the well-being of the local coast between Kinnaird Head, Fraserburgh and the mouth of the River North Esk, by St Cyrus. EGCP was first established in 2005. Further information.
__________________________________________________________________________________________
Project: COASTAL CHANGE AND GOLF LINKS RESEARCH PROJECT-2020-
Paul Rooney, Hope University, Liverpool, Great Britain
The 'Coastal Change and Golf Links Research Project' is established to identify current levels of coastal management understanding and engagement across links and cliff top golf courses.
The study aims to establish the levels of awareness, understanding and engagement of coastal change that are held by the relevant golf courses, national governing bodies for golf, professional golf associations and key stakeholders. The research will provide a clear account of overall levels of coastal change awareness and support this with a consideration and appraisal of existing management measures.
At the conclusion of the project the findings will demonstrate how prepared golf clubs are across the British Isles for the challenges that lie ahead and how the more proactive golf clubs are providing sustainable coastal management within their course management.
__________________________________________________________________________________________
Proceedings Littoral conference 'Change, Naturalness and People'-2020-
Thomas Smyth
The Proceedings of the 2017 Littoral conference 'Change, Naturalness and People' have been published and can be downloaded from the Natural and Environmental Research Councils Open Research Archive (NORA).
Mark van Til, Luc Geelen
In the context of Natura 2000, rare species and vegetation types in the Netherlands are protected in a European perspective. This report (in Dutch with English summary) focuses on the H2130 Grey dunes Habitat type, for which the Netherlands has great responsibility within the EU.
Aeolian dynamics was and is a very important precondition for biodiversity of the coastal dunes. Aeolian dynamics ensure both rejuvenation of the soil, pioneering situations and succession to new dune grasslands. It is assumed that mild dynamics in the form of small-scale spraying can greatly contribute to the quality of dune grasslands. Due to changes in the use and management of coastal dunes, the dispersal dynamics have decreased in many dune areas in the past century. This has major consequences for biodiversity and therefore also the quality of Gray dunes.
In the Nitrogen Programmatic Approach (PAS) great importance is attached to the role of aeolian dynamics within the coastal dune landscape. In the PAS recovery strategy, the reactivation of spraying fresh sand is considered to be a proven measure for the development and / or conservation of habitat type H2130 Grey dunes (lime-rich as well as lime-poor), with which negative effects of nitrogen deposition can be mitigated. Within the PAS there are extensive interventions in the pipeline in he Netherlands to bring back aeolian dynamics on a particularly small scale within the dune landscape with the aim of improving the preconditions for Grey dunes. So there is an enormous, urgent need for practically applicable knowledge on this subject.
The purpose of this research is to find out what the most important factors are that control the development and the aeolian life of small-scale blowouts in coastal dunes. In addition, the influence of small-scale spraying of lime and sand in time and space on the maintenance ('ecological lifespan') of diversity of system-characteristic plants and animals in both limestone-rich and limestone poor dunes has been determined.
Finally, this knowledge has been translated into practical management tools for the maintenance, restoration and new development of Grey dunes by reactivating small blowouts.
The aim of the Knowledge Network for Development and Management of Nature Quality (OBN) is to develop, disseminate and utilize knowledge for area managers about nature restoration, Natura 2000, PAS, habitat management approaches and the development of new nature. A number of specific management recommendations have also been published on the application of small-scale dynamics.
SEE: https://www.natuurkennis.nl/Uploaded_files/Publicaties/obn-greydunes-def2.ad1ff6.pdf
Further information on this issue (in Dutch) on the website www.natuurkennis.nl, e.g. Background report:
https://www.natuurkennis.nl/Uploaded_files/Publicaties/herstel-grijze-duinen-door-reactiveren-kleinschalige-dynamiek.f3f51f.pdf
__________________________________________________________________________________________
Bas Arens, Luc Geelen
Jianhui Du & Patrick Hesp recently published a review article on Salt Spray Distribution and Its Impact on Vegetation Zonation on Coastal Dunes. Salt spray is, after sand deposition, often considered the second dominant factor contributing to vegetation zonation in coastal dunes. Salt Spray mainly originates from the bursting of bubbles in breaking waves, is carried by wind, intercepted by coastal dunes and plants, and redistributed in the sand/soil after precipitation. In this paper, the literature on salt spray distribution and impact on dune plants are reviewed.
SEE: Estuaries and Coasts https://link.springer.com/article/10.1007/s12237-020-00820-2
__________________________________________________________________________________________
Foredunes: Geomorphology related to Management; Marine & Aeolian Processes-2020-
Luc Geelen
In their article "Geomorphologic characteristics and evolution of managed dunes on the South West Coast of France" Victor Bossard and Alexandre Nicolae Lerma describe a geomorphologic classification of foredunes along the 230  km of the Aquitaine coast and they analyze relations between dune management actions and marine and aeolian driven processes. Summing up management strategies conducted on the Aquitaine coast, three scenarios are generally considered to face the consequences of severe marine erosion. In the light of chronic erosion and relatively low sediment availably dynamics, these scenarios integrate into a stable to receding coast. With further sea level rise over the next decades probably requires extensive new management strategies. And authors promote so-called "controlled dynamic strategy" or guided remobilisation in order to adapt these environments to actual and future pressures.
SEE https://www.sciencedirect.com/science/article/abs/pii/S0169555X20302853?via%3Dihub
__________________________________________________________________________________________
French coastal dunes of the Côte d'Opale (northern France). Examples of resilient beach-dune systems with mobile foredunes-2020-
Yvonne Battiau-Queney
Northwards view showing a resilient coastal system: on the left picture, from left to right, 500m-wide sandy beach with ridge-and-runnel morphology, mobile foredune with Ammophila arenaria, partly stabilized older dunes with parabolic landforms and "grey" vegetation cover. These dunes were mobile and directly linked with the beach until the end of the last century. The foredune formed in the last 20 years. On the right picture, typical vegetation of the mobile foredune.
The beach-dune contact may change rapidly, according to the macro-tidal range, and the wave and wind instantaneous climate. A steep sand cliff can form after successive storm events, but it can change in a few months into a concave profile with incipient dunes on the upper beach.
Researches on this coastal section are in progress (CNRS Laboratory of Oceanology and Geosciences, LOG, University of Lille and University of Littoral)
__________________________________________________________________________________________
Restoration of Coastal Dunes-2020-
Gerben Ruessink
__________________________________________________________________________________________
Rabbits: Lessons from the past and abroad-2020-
Luc Geelen
The OBN Research project "Restoring Rabbit populations in coastal dunes" is halfway through. Some first results are published in a newsletter (OBN, 2019). Restocking is a commonly used practice in wildlife management, and particularly for European wild rabbit (Oryctolagus cuniculus) in France, Portugal and Spain. Many populations are declining, primarily because of habitat destruction and both myxomatosis and rabbit haemorrhagic disease.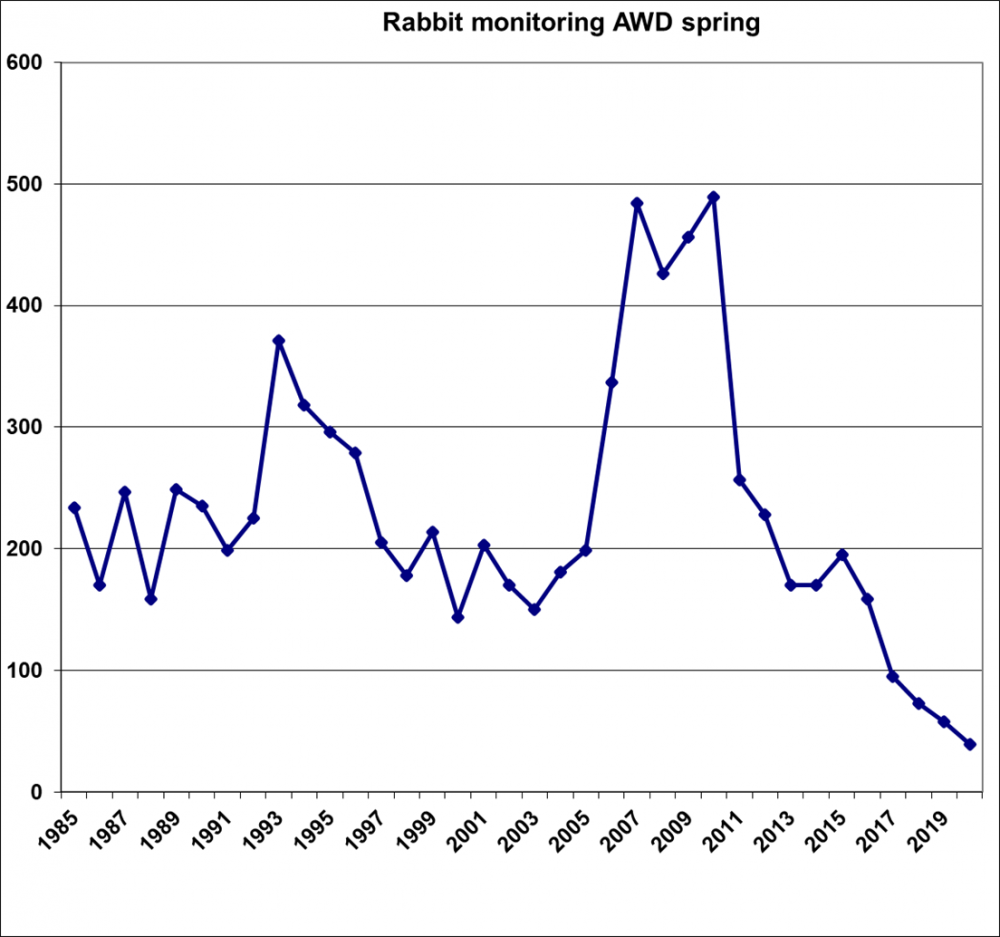 Now that the rabbit is not doing well in many coastal dune areas, there are proposals to move rabbits from populations with good density. When the rabbits have completely disappeared, reintroduction may be an option. But improving existing populations with low density earlier may be a better strategy. There are some small experiments in the Netherlands with local reintroduction or addition of rabbits. In addition to a discussion of Dutch projects the OBN project will also deal with a literature study. Experience from management by dune farmers in the 17th century, and the experiences in France and Spain are gathered.
Rabbit breeding sites in the Netherlands
It is instructive to see how the dune farmers ("Duinmeiers") in former days promoted rabbit populations. In the Netherlands in the 14th century already a system was created in the dunes of open warren "warandes" (breeding and hunting grounds), for commercial keeping of wild rabbits for their meat and fur. Information about their activities we owe Prof. Swaen for the translation of one of the oldest known manuscripts in the Dutch language, dealing with hunting and falconry from ± 1635. In sparsely populated areas of the dune warren the duinmeier made artificial caves with a special drill. He fed the rabbits in the winter with hay, oats and bran or willow prunings. The "Duinmeier" fought predators and birds of prey; which led even to the eradication of the fox in the Dutch dunes.
Experience from France and Spain
In France and Spain, many rabbits have been released or placed for hunting in the past, an estimated thousands per year. Nowadays also rabbits are managed for the conservation of native predators. We see the same management here as with the Dutch duinmeiers: sufficient food, making artificial nests and protection against predators. In Spain people make great efforts to preserve the rabbit as a prey animal for rare predators such as the Iberian Lynx (Lynx pardinus) and the Spanish Imperial Eagle (Aquila adalberti). Improving the habitat turned out to be one positive effect on the rabbit population. In this case was the reduction by burning low shrubs seemed to be effective. Various factors are studied in a large experiment: the season in which the introduction is made, the numbers that are added and the quality of the release area (nutrient-rich and nutrient-poor habitat). Success was measured by survival, the extent to which the rabbits remained in the area and the expected population growth. The highest success was achieved with a low number of released rabbits (40 on 15 ha)
in a nutrient-rich habitat. Placing in the breeding season is unfavorable, because there are many conflicts about mating and nesting during this period, where animals chase or injure each other. But because of considerable lack of knowledge most of current rabbit management programs should be revised to optimize the use of
available resources in the attainment of an effective rabbit density increase.
Letty (2003) has done experiments in France with additions of rabbits. He found a high mortality in the first two weeks and strong dispersion (withdrawal) of the new rabbits. In a population that the researchers followed day by day in the first two days after release 41-51% of rabbits died from predation or stress. And also later predation led to a lower survival than in a population protected against predators. The rabbits settled up to 225 meters from the artificial nests in which they were released. Moreover, the surviving rabbits that were introduces did not take fully part in reproduction.
In summary preliminary results show:
Additional placement requires a lot of effort and is not always successful.
A prerequisite for success is the suitability of the habitat.
Protection against predators for a longer period is necessary.
OBN will provide a more detailed overview in their final report giving the methods and techniques used.
Swaen, A.E.H.(red), 1948. Jacht-Bedryff. Brill, Leiden,
Angulo, E., Calvete, C., Cabezas, S. &. Villafuerte, R. 2004: Scrub management and rabbit translocations at Doñana National Park: long and short-term effectiveness. 2nd world lagomorph conference.
Letty, J., Aubineau, J., Marchandeau, S. & Clobert, J. 2003: Effect of translocation on survival in wild rabbit (Oryctolagus cuniculus). - Mammalian Biology 68: 250-255.
OBN, 2019. NEWSLETTER Recovery rabbit populations in the coastal dunes– oktober 2019 (In Dutch)
__________________________________________________________________________________________
Calluna heath die-back on the island Hiddensee, Baltic Sea, Germany-2020-
Alba Anadon-Rosell & Melanie Dombrowsky
Research include the stugy of the annual rings of Calluna vulgaris plants from Hiddensee, more specifically from two heathlands of different age at the Dünenheide. Collecting plants in groups of three growing next to each other: (1) plants that looked healthy, (2) plants that were dead and (3) plants that were a bit damaged. We replicated this several times across the heathlands. We are trying to find out whether plants died after the 2018 drought or before, and whether the die-back is related to their age and/or the growth of previous years.
In addition, a manipulation experiment was set up in the same area, also in two heatlands of different age. There, rain-out shelters have been built to simulate drought, and vegetation (mainly heather) has been clipped to simulate browsing. I attach a link with further explanations on the experiment:
https://botanik.uni-greifswald.de/en/experimental-plant-ecology/projects/ide-hiddensee/
__________________________________________________________________________________________
DUNES~ Sea, Sand and People-2020-
Ana Marcelino
The project is an Environmental History project focused in the relation between people and coastal dunes.The team combines geologists, historians, geographers and biologists. Covering the last three centuries and using a transdisciplinary approach, our team will travel across borders and centuries to find out who were the pivotal actors that changed the course of history of coastal dunes.
Further Information: http://dunes.letras.ulisboa.pt/en/project/
__________________________________________________________________________________________
Reduction of nitrogen input by precipitation - a entusiastic goal...-2020-
The Netherlands will allocate five billion euros over the next ten years to tackle nitrogen precipitation. In a letter to Minister Schouten and the four coastal provinces, the Duinbehoud Foundation asks to invest primarily in the proper management of nature restoration projects and in the construction of buffers around the nature reserves.
Marc Janssen, biologist and director of the Dune Conservation Foundation, is pleased that money is being released for nature restoration. "Five billion is a significant investment and a step in the right direction. But if it remains that way, nature will still be exposed to too much nitrogen in 2030. Investments are also necessary after 2030, in particular to structurally reduce nitrogen emissions. "
Originally, the Dutch dune area is nutrient-poor. For centuries, flora and fauna have established their survival strategies for this. Now nitrogen is seriously disrupting the ecosystem. In the Dutch dune areas, this is reflected in an excessive vegetation with shrubs and grasses. As a result, dunes hardly drift and the original species-rich vegetation, birds and insects disappear. Birds find less and less food in overgrown places in the dunes. Animals are also victims.
Further information in Dutch: https://duinbehoud.nl/stikstof-een-bedreiging-voor-het-ecosysteem-in-de-duinen/
__________________________________________________________________________________________
Effects of Sand Nourishment on Nature
in Dutch : landschapsvormende-processen
__________________________________________________________________________________________
MANAGEMENT OF COASTAL DUNES AND SANDY BEACHES
Reports of the workshop: EN: https://tinyurl.com/ycos7gwa FR: https://tinyurl.com/y9m65uur
___________________________________________________________________________________________
DUNE ROADMAP - ACTIONPLAN
The action plan concerning knowledge exchange and networking during the period 2016-2020. The roadmap focus on the sustainable conservation and restoration of important habitats in dunes of the atlantic region. The roadmap will be reworked regularly.
Further information: http://ec.europa.eu/environment/nature/natura2000/platform/documents/263/Roadmap_for_dunes_of_the_Atlantic_Region_v_Jan2017_en.pdf
__________________________________________________________________________________________
STATE of NATURE in the EU
This report 2018 shows clearly the dramatically bad state of the nature of european dunes. It is one reason, that we have to work for a much better quality of beaches and dunes. further information: State of nature in the EU.pdf
__________________________________________________________________________________________
Alien Species in Dunes and Dune Slacks
Records
Cotula arborescens subspec. gallica already seen in dunes ???
Do you have any suggestions ???
Natterjack Toads on the island of Sylt
Natterjack Toads are threatened on the island of Sylt and their population declines. On the entire island management measure started, supporting in the short as well as in the long term the environmental conditions to maintain the Natterjack population.
Extensive information (in German)
FIELD STATIONS

CAROLINENSIEL, North Sea
Location: Friedrichsgroden 16, 26409 Carolinensiel
Landscape: North Sea, salt marshes
Facilities: 5 shared-rooms (4-5 persons), 2 double-rooms, kitchen self-catering, seminar room, 2 labs (dry and wet with sea water access) and standard lab equipment, separate room with microscopes/binoculars, yearlong available
Contact: Dr. Hans-Ulrich Steeger, steeger (at) uni-muenster.de, phone: +49-251-8323868, Westfälische Wilhelms-Universität Münster, Institut für Zoophysiologie, Hindenburgplatz 55, 48143 Münster

SPIEKEROOG, North Sea
Location: Hellerpad 2, 26474 Spiekeroog
Landscape: large dune areas with primary dunes, heathlands and dry grasslands without rabbits, more or less no wet slacks, salt marshes grazed and non-grazed
Facilities: 2 shared rooms (4-5 persons), 1 double room, kitchen self-catering, meeting room, lab, equipment particularly for mud and water studies, microscopes and binoculars
Contact: Homepage in German, thus contact them directly: forschung (at) wittbuelten.de
HELGOLAND, North Sea
Location: Biologische Anstalt Helgoland, 27483 Helgoland
Landscape: Northsea, cliff coast with impressing bird breeding area, marine algae and kelp, dune areas and dry grasslands
Facilities: 23 double rooms, 53 single rooms, kitchens for self-catering or catering via youth hostel, seminar room, lab, comprehensive lab equipment including seawater access, microscopes, phase contrast microscopes, binoculars, yearlong available


ZINGST, Baltic Sea
Location: Mühlenstraße 27, 18374 Ostseeheilbad Zingst
Landscape: Baltic Sea Coast, Inland Coast with salt marshes, meadows and reed beds of the Darß Zingster Bodden, bird protection areas Kirr and Werder islands, large dune areas of the Darßer Ort, old dune forests Darßer Wald.
Facilities: 3 shared rooms (a 5 persons), 2 single rooms, kitchen self-catering, seminar room, boat, 3 labs, water and plankton analysing equipment, microscopes, yearlong available
Contact: PD Dr. Rhena Schumann, rhena.schumann (at) uni-rostock.de, Universität Rostock/Mathematisch-naturwissenschaftliche Fakultät/Institut für Biowissenschaften/Angewandte Ökologie & Phykologie
Further Information
HIDDENSEE, Baltic Sea
Location: Biologenweg 15, 18565 Kloster / Hiddensee
Landscape: Baltic Sea Coast, Inland Coast Bodden, salt marshes, reed beds, dunes with dry grasslands and heathlands, cliff coast
Facilities: 14 double rooms, 3 single rooms, kitchen self-catering, seminar room, 1 lab, some soil and microclimate measuring instruments, microscopes and binoculars, yearlong available
Contact: PD Dr. Irmgard Blindow, blindi (AT) uni-greifswald.de, phone +49-38300-50251, Ernst-Moritz-Arndt-Universität Greifswald
Further Information
__________________________________________________________________________________________
PUBLICATIONS, e.g.
2021
Acosta A.T.R. (2021) Coastal Dune Vegetation Zonation in Italy: Squeezed Between Environmental Drivers and Threats. In: Pedrotti F., Box E.O. (eds) Tools for Landscape-Scale Geobotany and Conservation. Geobotany Studies (Basics, Methods and Case Studies). Springer, Cham. https://doi.org/10.1007/978-3-030-74950-7_16
Bird, T. L., Bar Katie, P., Groner, E., Bouskila, A. (2021) Asynchrony rives Plant and Animal Community Stability in Mediterranean Coastal Dunes. Applied Sciences 11: 6214. https://doi.org/10.3390/app11136214
Bonari, G., Padullés Cubino, J., Sarmati, S., Landi, M., Zerbe, S., Marcenò, C., Scoppola, A. and Angiolini, C. (2021) Ecosystem state assessment after more than 100 years since planting for dune consolidation. Restor. Ecol. e13435. https://doi.org/10.1111/rec.13435
Ciccarelli, D., Bona, C. (2021) Exploring the Functional Strategies Adopted by Coastal Plants Along an Ecological Gradient Using Morpho-functional Traits. Estuaries and Coasts: 1-16. https://doi.org/10.1007/s12237-021-00945-y
Cortés-Fernández, I., Cerrato, M. D., Ribas-Serra, A., Cardona, C., González, C., Gil, L. (2021) Evidence of interpopulation variation in the germination of Eryngium maritimum L.(Apiaceae). Plant Ecol 222, 1101–1112. https://doi.org/10.1007/s11258-021-01164-y
Della Bella, A., Fantinato, E., Scarton, F. et al. Mediterranean developed coasts: what future for the foredune restoration? J Coast Conserv 25, 49 (2021). https://doi.org/10.1007/s11852-021-00838-z
Fos, M., Sanz, B., & Sanchis, E. (2021). Carpobrotus Management in a Mediterranean Sand Dune Ecosystem: Minimum Effective Glyphosate Dose and an Evaluation of Tarping. Journal of Ecological Engineering, 22(7), 57-66. https://doi.org/10.12911/22998993/138871
Gallego-Fernández, J. B., Martínez, M. L., García-Franco, J. G., Zunzunegui, M. (2021) Multiple seed dispersal modes of an invasive plant species on coastal dunes. Biological Invasions 23: 111-127. https://doi.org/10.1007/s10530-020-02359-6
Gudžinskas, Z., Rasimavičius, M. (2021) Variation in hip and sepal parameters of invasive Rosa rugosa between sites and years. Botanica 27: 1-12. researchgate
Ievinsh, G., Lejniece, K. K. (2021) Comparison of sand burial-dependent growth responses of two Tragopogon species from different habitats. Botanica 27: 13-22. researchgate
Kooijman, A. M., Arens, S. M., Postema, A. E. L., van Dalen, B. R., Cammeraat, L. H. (2021) Lime-rich and lime-poor coastal dunes: Natural blowout activity differs with sensitivity to high N deposition through differences in P availability to the vegetation. Science of The Total Environment 779: 146461. https://doi.org/10.1016/j.scitotenv.2021.146461
Prisco, I., Acosta, A.T.R., Stanisci, A. (2021) A bridge between tourism and nature conservation: broadwalks effects on coastal dune vegetation. Journal of Coastal Conservation 25: https://doi.org/10.1007/s11852-021-00809-4
Van Puijenbroek, M. E., van den Dool, R. T., Koppenaal, E. C., Smit, C., Berendse, F., Limpens, J., Bakker, J. P. (2021) Green beach vegetation dynamics explained by embryo dune development. Basic and Applied Ecology 56: 45-57 https://doi.org/10.1016/j.baae.2021.06.003
__________________________________________________________________________________________
MEETINGS, EXCURSIONS
Various coastal events you will find here: https://www.eucc-d.de/events-conferences.html
EU Nature - Communicationplatform: Information and meetings mainly dealing particularly with Natura2000
_______________________________________________________________________________________
LINKS
EUROPE
Commission on Coastal Systems (CCS) of the International Geographical Union (IGU) WWW
EU Nature Communicationplatform WWW Information and meetings mainly dealing particularly with Natura2000
Eurosite WWW
WADDEN SEA
TMAP Saltmarshes and Dunes WWW
MEDITERRANEAN COAST
Mediterranean Coastal Foundation WWW
ATLANTIC
EUCC Atlantique
BELGIUM
Agentschap voor Natuur en Bos (ANB) WWW
Agentschap Maritieme Dienstverlening en Kust (MDK)/Maritime and Coastal Services WWW
Instituut voor Natuur- en Bosonderzoek (INBO)/Research Institut Nature and Forest WWW
Natuurpunt WWW
BULGARIA
Center for Coastal and Marine Studies (CCMS) WWW coastal aspects along the Black Sea
DENMARK
FINLAND
FRANCE
Conservatoire du littoral WWW
Coastline observatories network in France The Observatory of the coast with interactive maps allow to visualize the elements collected by all participating structures. Observatory of the Aquitaine coast, Observatory of the north of France, Observatory of Pays de la Loire
GREAT BRITAIN
UK Sand Dune and Shingle Network WWW
National Trust WWW
Natural England WWW
NatureScot WWW
Natural Resources Wales WWW
East Grampian Coastal Partnership: The Aberdeen Institute for Coastal Science and Management (AICSM) works alongside the East Grampian Coastal Partnership (EGCP) in a range of coastal projects. WWW
ITALY
THE NETHERLANDS
Kennisnetwerk Ontwikkeling en Beheer Natuurkwaliteit (OBN)/OBN Knowledge Network WWW

'In the OBN Knowledge Network, researchers, conservation site managers, universities, consultancies, NGO's and governmental bodies, such as provinces and water boards, closely cooperate to restore ecosystems and nature reserves. In this network, knowledge and practice intermingle, and science and nature management jointly look for the most effective approaches to enhance sustainable conservation of important ecosystems in the Dutch landscapes. Since 2006 The OBN Knowledge network formulates each 4 to 5 years its mission statement and knowledge agenda which is leading in all OBN related activities. Based on this mission statement, landscape-based 'Expert Teams' are working on the development, dissemination and implementation of knowledge on restoration and rehabilitation of nature reserves, on issues regarding Natura 2000 and the EU Water Framework Directive, as well as on distribution problems of individual species. During the last decade, the OBN Knowlegde Network is also focusing on environmental problems, such as the effects of atmospheric nitrogen deposition, climate change, sea level rise, coastal defense, flood risks, and other changes in the hydrological systems. In these fields of research, the network cooperates with many research institutes.
Core message
The Dutch OBN Knowledge Network for Nature Restoration and Management
• is an independent and innovative platform where policy makers, site managers and scientists cooperate in the management and restoration of natural areas;
• it develops and disseminates knowledge to enhance nature quality management and conservation in the Dutch lansdcapes and in the Atlantic Region.'
Natuurmonumenten WWW
Puur Water & Natuur (PWN) WWW
Rijkswaterstaat/Dutch Ministry of Infrastructure and Water WWW
Staatsbosbeheer WWW
Waddenacademie WWW
POLAND
Dunes in Poland WWW
__________________________________________________________________________________________
CONTACT
Maike Isermann, mail: dunes-d (at) eucc-d.de